'Vikings' Season 3 Spoilers: Major Deaths And Severed Heads; Cast Teases 'Mind-Blowing' Moments Of New Season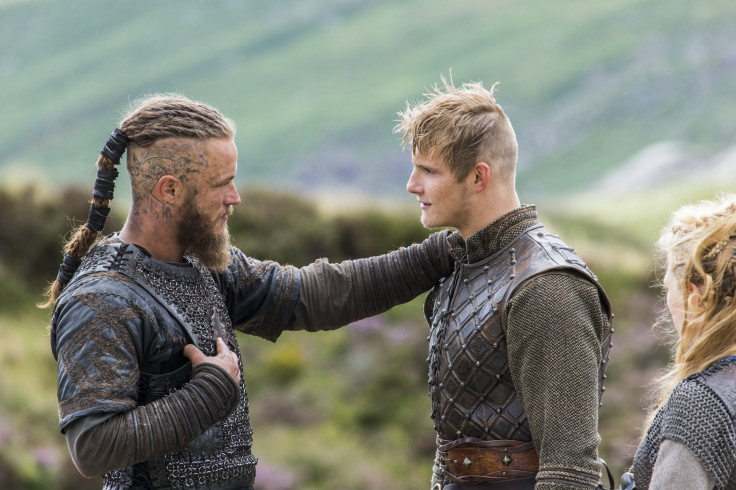 Just because "Vikings" will be raiding our TV sets in 2015 doesn't mean fans have to wait until the new year to receive gripping clues regarding the History Channel's upcoming third season. The cast of "Vikings" quenched our thirst for Nordic drama when they revealed to Yahoo TV a few of the bloody details woven into the third installment of Michael Hirst's thrilling historical series.
"Season 3 is even more epic than Season 2. If you thought you loved Season 2, Season 3 just takes it to a whole new level," Katherine Winnick, who plays the role of Lagertha on "Vikings," dished.
Winnick's statement made us question how "Vikings" could ever top Jarl Borg's gruesome Blood Eagle-death. But according to Alexander Ludwig (who portrays the role of Bjorn), Hirst managed to find a way to out-gore himself in the new season.
"It gets insane," Ludwig explained to ET Canada while at the 2014 San Diego Comic-Con. "I mean, the fans are going to go crazy when they see this. I'm going crazy when I read the scripts! It's incredible!"
During SDCC, "Vikings" revealed an action-packed trailer that teased some pretty gruesome Season 3 moments – one scene starring a decapitated head.
[Check out more Season 3 "Vikings" spoilers from SDCC here]
"You saw Ragnar on the prow of his ship with a severed head next to him... it's mind-blowing," Clive Standen (who plays the character Rollo) explained to Yahoo TV.
And as Ludwig so perfectly put it, things will "only get grittier" as Season 3 progresses.
What does he mean by that? Well, rumor has it the upcoming season of "Vikings" will feature a lot of unexpected deaths – one of them being the loss of a major character.
"We have lost a few characters," Winnick revealed of the rise in Season 3's death toll. "Some beloved characters and some amazing characters, so it's been a little bit in mourning on the Vikings set. But I'm telling you, it's going to be amazing this year."
What major character do you think will be killed off in Season 3? Our money is on Athelstan. Sound off in the comments section below with your predictions!
© Copyright IBTimes 2023. All rights reserved.