'Vikings' Season 4 Spoilers: Katheryn Winnick Shows Off Lagertha's New Look In Behind-The-Scenes Photo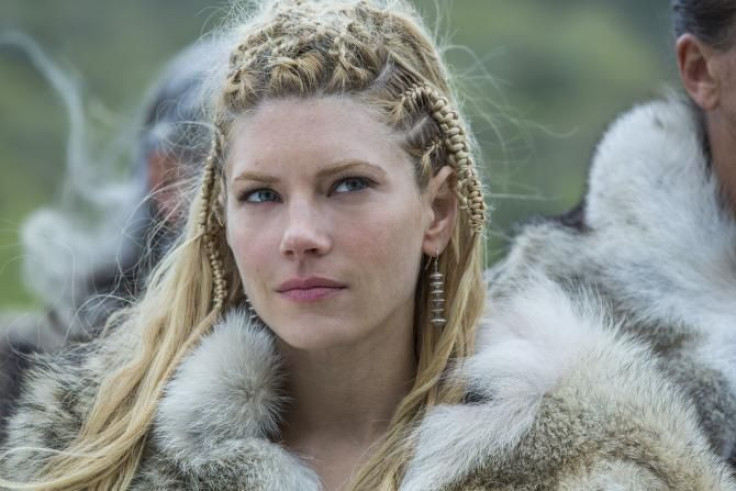 Talk about hair envy. Katheryn Winnick's stylish character Lagertha is getting a brand new look when "Vikings" returns in the fall. And we have to admit … her Season 4 hairdo is pretty outrageous!
Recently the actress, who portrays the fan favorite shieldmaiden on the hit History Channel series, shared a behind-the-scenes photo of herself transforming into the Earl of Hedeby. "When hair is an art. Thank you @catherine_argue for your incredible talent," Winnick captioned the Instagram image that unveiled just one of Lagertha's fresh looks.
In the picture, fans can see Lagertha sporting a rather regal look that consists of a crown-like accessory sitting atop her golden locks. Braids hold the leather and golden addition safely in place before twisting down into a curled, side ponytail.
In April, "Vikings" stylist Dee Corcoran told International Business Times that fans could expect major transformations from Lagertha and their other favorite characters when the second half of Season 4 returns to the small screen.
"This season you'll see [Lagertha] with little pieces of Celtic metal [in her hair] when she's going to battle, which looks fabulous on her," Corcoran stated, adding that Winnick's character won't be the only one to undergo a major hair-formation.
Due to the Season 4 time jump that took place in the midseason finale, Corcoran had to create appropriate styles to correlate with the new ages of the characters. "We had to age [Linus Roche's character Ecbert] considerably so it gave us something to [sink] our teeth into," the stylist told IBTimes.
Audiences can see the new styles of their favorite characters when "Vikings" returns to History Channel with the second half of Season 4 in the fall.
© Copyright IBTimes 2023. All rights reserved.
FOLLOW MORE IBT NEWS ON THE BELOW CHANNELS