Vine Truck Crash: User Captures Incredible Six Seconds On I-96 [VIDEO]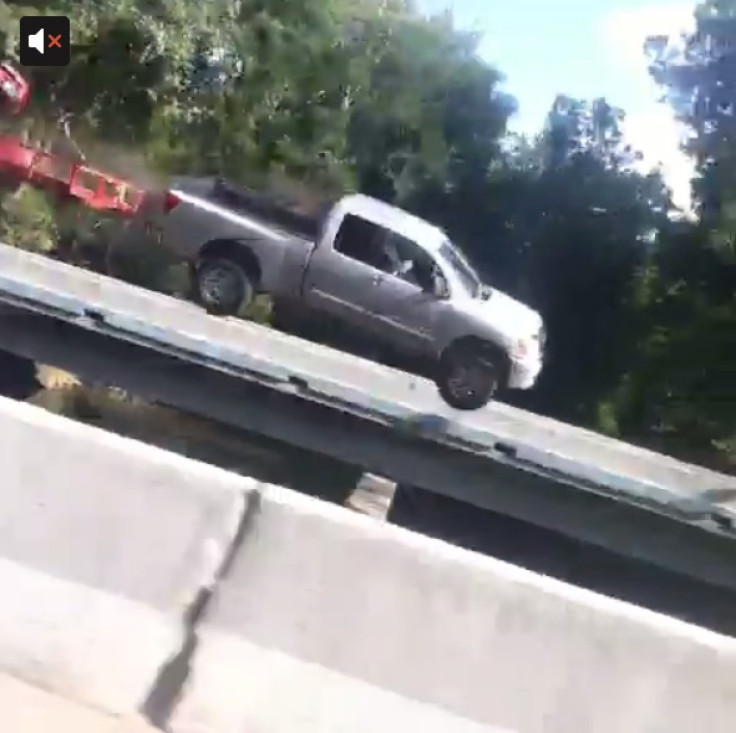 UPDATE: The driver of the vehicle is expected to make a full recovery, according to the Lansing State Journal.
An unbelievable car crash involving a pickup truck towing a utility trailer that flew off an elevated stretch of I-96 was captured in a Michigan woman's Vine video. The video, created on Twitter's micro-video network, appears to catch the staggering moments before the pickup truck took a swan dive off the highway.
The truck was reportedly driven by a 59-year-old man from Kentwood, Mich., who drifted into the highway's median after hitting a bump, the Lansing State Journal reported. In a video taken by Alexandria Stack of Fenton, Mich., the unidentified man's truck appears to hurdle over the guardrail before plummeting off the highway and into Sycamore Creek.
Emergency medical workers crews from the Delhi Township and Lansing fire departments extricated the man from his truck and transported him to Sparrow Hospital. Ingham County Sheriff's Sgt. Matthew Flint said that the man was conscious when police arrived on the scene, and confirmed that he sustained serious injuries during the accident. As of Monday, both Eastbound and Westbound lanes on the highway had been reopened.
"Did I just f---ing witness this no f---ing way [sic]," tweeted along with a link to the Vine video last week.
Stack, who describes herself as a student at Western Michigan University, wrote on her Twitter on Tuesday that she had been overwhelmed by an influx of media requests. "NBC wants to talk to me?" she tweeted on Tuesday.
Warning: the video contains profanity in the caption.
© Copyright IBTimes 2023. All rights reserved.