Viral Fake Photo Shows Putin With Trump, Other World Leaders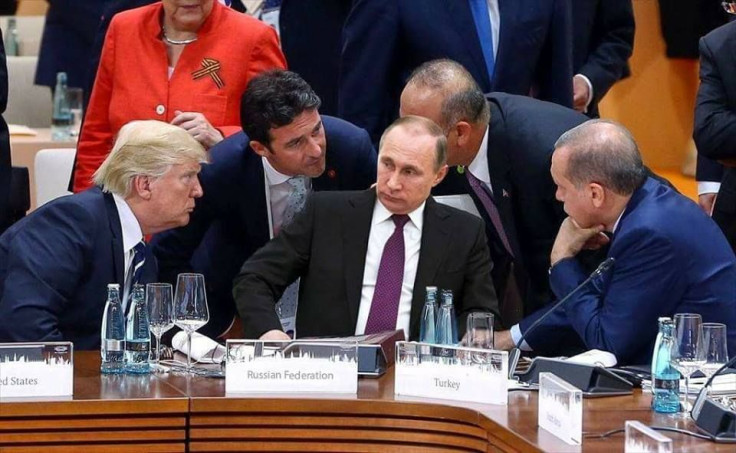 A fake photo of Russian President Vladimir Putin gained widespread internet traction Monday before it was found to be fake, at which point the internet took over. The photo depicts Putin surrounded by leaders, including President Donald Trump, looking up to him at the G20 meeting in Germany. Putin supporters have been spreading the photo, but Gizmodo on Monday reported that picture was photoshopped.
The original image was taken by Kayhan Ozer for Getty images. Similar photos taken by other outlets, like the Associated Press, show that the image was clearly doctored to put Putin in the middle of the action, even though he was never there.
READ: Amelia Earhart Expert Claims Newly Emerged Photo Is Fake
The original photo depicts Trump speaking to Turkey's Foreign Minister Mevlut Cavusoglu and Turkish President Recep Tayyip Erdogan. German Chancellor Angela Merkel can be seen in the background.
Buzfeed News pointed out Monday that you can also see a ribbon appear on Merkel's blouse on the fake. The ribbon of St. George has been co-opted by Russian patriots as a symbol of the county's nationalism. It was originally a military decoration.
Putin supporter and journalist Vladimir Soloviev was one of the first people to share the photo. The originator of the fake is unknown, but there have been plenty of spoofs of the original fake.
Trump had his own Photoshop controversy last month when the Washington Post dug into a fake Time Magazine cover of the president at several of his golf courses.
READ: Trump Fake News? The President's Golf Courses Feature A Little Of His Own
The fake cover depicted Trump in a suit from the chest up, and above the Time logo read: "TRUMP IS HITTING ON ALL FRONTS…EVEN TV!" In the lower left-hand third, Trump's name appeared in gold. Below his name the headline: "The 'Apprentice' is a television smash!"
Time Magazine confirmed that the cover wasn't real.
© Copyright IBTimes 2023. All rights reserved.