Viral Video Shows 10-Foot Alligator Bite A Texas Trapper As He Struggles With Reptile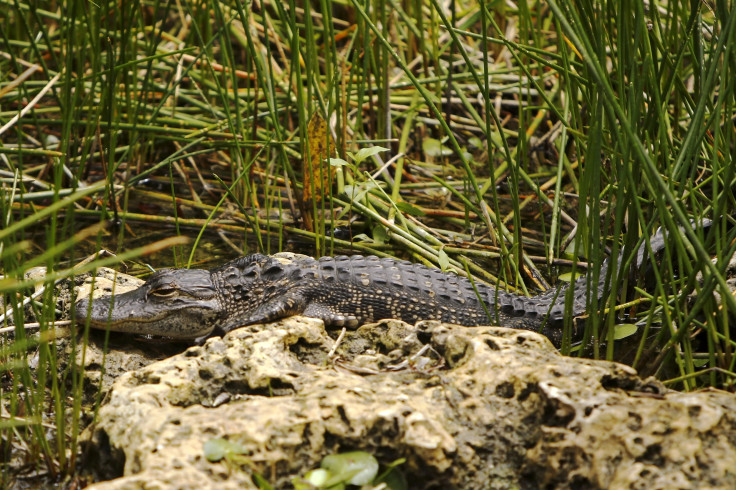 Two men from East Texas have garnered national attention after a video showing them struggling with a 10-foot alligator went viral and attracted millions of views.
Cattle rancher Hal Conover, on whose property the alligator entered, sought his neighbor Byron South's help until the East Texas game wardens arrived. "The game wardens were on their way out of town, so they called a certified crew that handles problem alligators," South said, KLTV, an ABC-affiliated TV station reported Thursday. Till the time professional help came, South and Conover struggled to keep the alligator in control also ensuring that it does not get away.
Later, Tony Reeves and Terry Mills, licensed nuisance alligator trappers, arrived to secure the alligator. In the process of bringing the reptile under control, it bit Mills leaving him with minor injuries. "I guess all ended well, the calves are safe, the alligator's gone, the guys hand is fine, and it ended up a really good story," South said.
Read: Watch 9-Foot Reptile Get Pulled Out Of Storm Drain In Florida
In the last few years, the sighting of alligators in yards, ditches and ponds have increased, officials from Texas Parks and Wildlife Department said last year, according to reports.
Officials said people called more often to inform about alligators being spotted in all kinds of places. "The phones start ringing off the hook; people calling to report they saw an alligator in their yard, a ditch, a pond or crossing a road; and wanting someone to do something about it," said Cooper, Port Arthur-based alligator program leader for Texas Parks and Wildlife Department (TPWD).
Those phones are ringing, now, Cooper said, with Houston-area TPWD offices getting "10-15 calls a day and sometimes a lot more," from concerned people who have spotted one of the tens of thousands of gators crawling across the landscape in search of a new home territory, a mate or both, according to reports.
After a heavy rainfall in Texas in 2015, reports said there was a spike of alligator sightings in the region. According to KXAN, an alligator was spotted resting in the parking garage of a Houston office building, located next to a bayou in May. Alligator hunters "Gator Chris" Stephens and Christy Kroboth told the Houston Chronicle they received a boost in business since the storms. In May 2016, on Texas State Highway 285, a flattened carcass of an alligator was also sighted.
Read: 2 Massive Alligators At Kiawah Island Golf Course, South Carolina Caught On Video
Stephens told the Chronicle that he and other alligator hunters have been capturing the reptiles outside of waterways because the gators are trying to escape floodwaters. "They are escaping fast-moving water that tires them out," Stephens said
TPWD wildlife biologists and game wardens emphasize on the fact that educations rather than over-reaction is key to dealing with alligators. The department would prefer the "live and let live" approach whenever possible, the Houston Chronicle reported.
© Copyright IBTimes 2023. All rights reserved.