Virginia Aftershocks Rock Same Area as Last Summer's 5.8 Magnitude Earthquake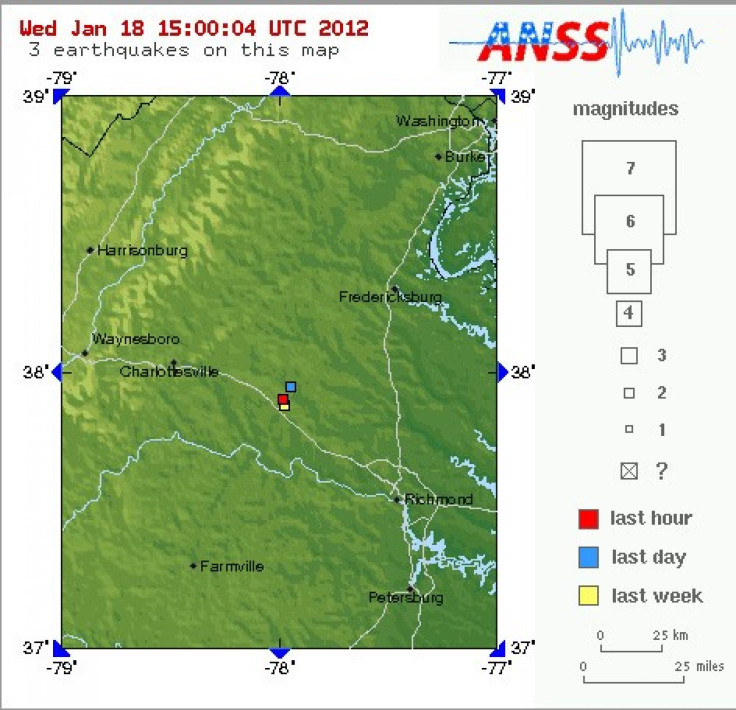 A 2.5-magnitude earthquake hit south of Washington, D.C., on Wednesday morning, causing no reported damage, but resulting in two aftershocks.
Mineral, Va.--located between Charlottesville, Fredericksburg and Richmond--was the epicenter of the tremor Wednesday, WTOP reported, as was the 5.8-magnitude Aug. 3, 2011, quake that was felt from Maine to Georgia and damaged the Washington Memorial in D.C.
Wednesday's quake, which hit at 8 a.m. and was followed by 8:08 a.m. and 9:20 a.m. tremors, is considered the 82nd aftershock since the Aug. 3 quake, according to the Virginia Department of Emergency Management and the U.S. Geological Survey, WTOP reported.
According to the USGS, the tremor was too minor to be felt in Washington, D.C., WTOP said.
© Copyright IBTimes 2023. All rights reserved.