'The Voice' Season 9 Spoilers: The Eliminated Semifinalists Open Up About Getting Cut And What's Next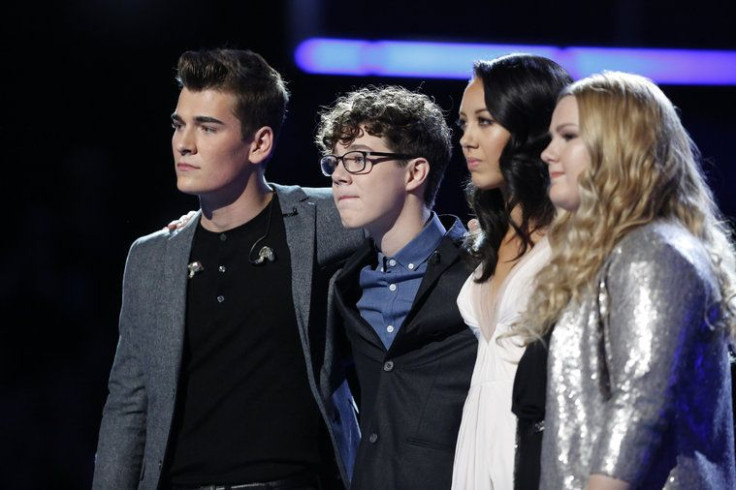 As we gear up for the final night of performances from "The Voice" Season 9 finalists, it's important to look back at the eliminated contestants that the shocking semifinal cuts left in its wake. While the top four will move on for a chance to take home the show's grand prize, the five artists that were sent packing on Tuesday are already looking ahead to what's next in their careers.
It was a rough night for everyone involved with the show during the semifinal eliminations as members of Teams Adam Levine, Blake Shelton, Gwen Stefani and Pharrell Williams each saw one of their last artists get the boot. With the competition behind them, former Season 9 artists Amy Vachal, Zach Seabaugh, Braiden Sunshine, Shelby Brown and Madi Davis are eager to parlay the skills, acclaim and relationships they developed on the show into more success in the music industry.
"I know, for me, I'm just going to take what I've learned from this whole opportunity and keep building on my career," Seabaugh told reporters in a post-show conference call. "And I'm going to try and stick with Blake for as long as I can past this show and try and make the best of everything. With all of the huge fan base that I've gained from this show, I just want to continue with him and have him by my side and put out some new music."
Obviously, it was a disappointing night as many artists' fans were forced to acknowledge that there's no longer a hope of their favorite performer taking the Season 9 crown. Brown unofficially spoke on behalf of the eliminated semifinalists saying that they were prepared for anything given the structure of the show and the fact that each of the remaining nine artists were incredibly talented.
"I just wanted to say, I don't think that you can be surprised by anything because… I mean, none of us knew how it was going to go," she said. "Every single one of us were - are so talented. So there was no surprise to anything because it literally could've been anyone. So I don't want to sit here and say that one person was a shock or one person wasn't a shock because there was no way to predict anything that happened last night."
While Brown was commenting on the show's ability to promote talented artists that might not get the same exposure otherwise, her fellow semifinalist said she respected the NBC series for a different reason. Team Pharrell's last remaining contestant, Madi Davis, said she wasn't sure what the next step in her career is, but praised "The Voice" for giving a young teenage artist like herself a great crash-course in not just the music industry, but art in general.
"What I think I've realized throughout this whole process is that being talented and, you know, having a natural gift isn't really enough," she confessed. "You know, you need people that are willing to work with you and help you. And you need people that are equally as talented, if not more talented – like, in my case, Pharrell Williams or the band director, Paul Mirkovich. They're there to help your vision become something that's real. And I think that's how I've grown, because I used to think that was impossible, but I didn't really want to work with other people. I wasn't open to that idea."
Meanwhile, with the previously mentioned artists keeping an eye on the future thanks to their time on "The Voice," Amy Vachal confessed that one of the biggest takeaways from the show was the relationships she developed with her fellow anxiety-riddled contestants. She also revealed that, while they were eliminated, they weren't sent home yet.
"I'm just so happy for the four that made it through. I mean, like at this point we're all good friends and we're all, you know, rooting each other on. And so what makes this week a little different is that the five of us that got eliminated aren't leaving," Vachal said. "We're staying through the finale here in L.A. so that makes it a little better. We get to stick around with our friends a little longer and, you know, of course they bring back the top 24 for the finale, so this is going to be a celebration for the rest of us staying too."
At the end of the day, "The Voice" competition reaches so many young artists and the communities that they're from, it's impossible to not feel overwhelmed by the realization that they won't win it all. However, leave it to the season's youngest competitor, Braiden Sunshine, to strip down the bells and whistles of the show and focus on the stellar opportunity he had to gain fans that love him for doing what he loves.
"The [Blind Auditions are] an extremely good example because I was actually physically shaking when I went onstage," he confessed to reporters. "So the fact that two people decided to turn their chairs around saying they want me on their team, that was extremely… I mean, the feeling that you get at that point is hard to describe. But you can see it if you watch the tapes. You can see me starting to get misty eyed. That one kind of explains itself at that point."
While the five eliminated contestants will be around to support the remaining artists. Next week's live performances will be all about the four that didn't end up getting cut by America's votes: Jordan Smith, Emily Ann Roberts, Barrett Baber and Jeffery Austin.
© Copyright IBTimes 2023. All rights reserved.