'The Voice' Season 9 Spoilers: Finale Performances Will Kick Off With Each Artist Performing A Duet With A Celebrity And Their Coach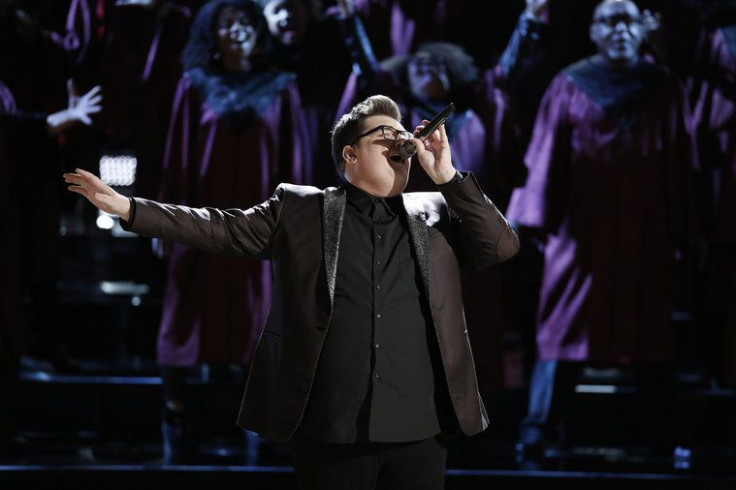 With "The Voice" heading into the first night of its two-part finale, many are wondering what the surprisingly secretive singing competition has in store for the final four contestants of Season 9. Fortunately, with just hours to go before the artists perform on "The Voice" stage for the last time, NBC has revealed a bit more about what to expect from the finale.
According to E! News, the artists, in addition to solo performances, will be singing duets with both their coaches and a celebrity guest. The two country-leaning artists, Emily Ann Roberts and Barrett Baber, will get a little help from artists Ricky Skaggs and Wynonna Judd respectively. Roberts and Skaggs will take on the hit "Country Boy," while Baber sings "No One Else On Earth" with Judd. Meanwhile, Jeffery Austin will sing "Hollow" along with his celebrity duet partner Tori Kelly. Finally, everyone's favorite self-love advocate, Jordan Smith, will be joined by former "The Voice" coach Usher. The 37-year-old artist won Seasons 4 and 6 in the past and together they'll sing "Without You."
However, the contestants aren't the only ones being put on the spot Monday night. Blake Shelton will pull double-duty by singing a song with each of his remaining artists, Roberts and Baber. Gwen Stefani takes the stage with her highly emotional performer, Austin, while Levine will join this season's clear front-runner, Jordan Smith. According to Yahoo Music, the Smith and Levine pairing will be singing the Beach Boys hit "God Only Knows," but the other coach songs won't be revealed until the episode airs.
As previously mentioned, while each of the remaining four contestants have had some pretty stellar performances in the competition thus far, TV Line notes that Smith is considered by most to be the front-runner to win the grand prize. Given his remarkably high iTunes rankings, his general reaction from the audience as well as his nearly flawless vocal talent, he's delivered a show-stopper week after week in 2015. However, with America's votes being the deciding factor and the most difficult and labor-intensive night of performances still laying ahead of them, it's impossible to predict a winner just yet. With country singers doing particularly well on "The Voice" in the past and the judges constantly giving praise to the most emotionally invested artists, there's no reason that Roberts, Baber or Austin couldn't win a majority of the votes during Monday's finale performances.
"The Voice" airs on NBC Monday at 8 p.m. EST. Which artist are you most excited to see take the stage one last time? Comment below or tweet your thoughts to @TylerMcCarthy.
© Copyright IBTimes 2023. All rights reserved.