Voting Rights Act 2016: Texas Voter ID Law To Get New Hearing In US Court Of Appeals, During Election Year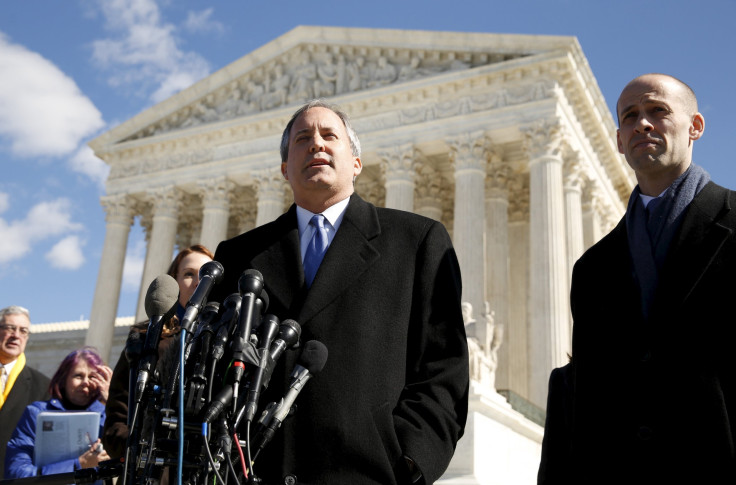 A Texas voter ID law that was struck down by a panel of federal judges in 2014 could be revived, now that an appellate court has agreed to rehear arguments on the law's fairness to African-American and Latino voters, voting rights advocates have warned. The 5th U.S. Circuit Court of Appeals, which is seated in New Orleans, announced Wednesday that its full bench of judges will again consider whether requiring Texas voters to present specific forms of ID at the polls is a violation of the Voting Rights Act or the U.S. Constitution.
Texas Attorney General Ken Paxton, who has been at the center of federal court battles over immigration and abortion rights in the last year, welcomed the court's announcement. "Today's decision is a strong step forward in our efforts to defend the state's Voter ID laws," Paxton said in a statement.
Paxton's statement continued: "Safeguarding the integrity of our elections is a primary function of state government and is essential to preserving our democratic process. We look forward to presenting our case before the full 5th Circuit."
U.S. Voter Registration and Turnout Over Time | FindTheData
Texas asked the 5th Circuit to hear the case "en banc," a term meaning that all active judges have the chance to weigh in, the Associated Press reported. Civil rights groups and the Justice Department urged the court not to rehear the case, because a ruling removing the current halt on the Texas' law would allow it to go into effect for the 2016 general election.
Last year, a three-judge panel of the 5th Circuit upheld a lower court ruling issued in 2014 that found Texas' voter ID requirement violated not only the Voting Rights Act, but also the 14th Amendment for being racially discriminatory and the 15th Amendment by serving as a poll tax. The Supreme Court declined to step in, indicating that they would have also barred enforcement of the law in November 2014.
The Brennan Center for Justice at New York University, a voting rights advocacy group, determined that 11 percent of Americans, or 21 million people, lacked a government-issued photo ID in 2006, even though they were registered to vote. In Texas, that amounted to more than 600,000 voters.
© Copyright IBTimes 2023. All rights reserved.