'Walking Dead' Season 4 Spoilers: 'Twilight' Star Christian Serratos Cast; Who Is Rosita Espinosa? [PHOTO]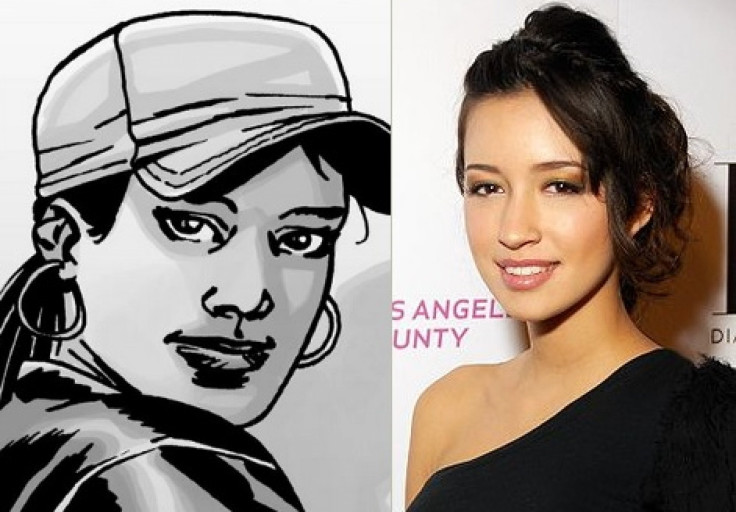 "Walking Dead" fans can welcome a new face (and supernatural pro) to the fourth season of the hit AMC zombie apocalypse drama -- actress Christian Serratos.
If Serratos name sounds familiar, it's because the 22-year-old actress starred in the "Twilight" franchise as Angela Weber, a fellow Forks student and friend of Bella Swan. Never watched the "Twilight" series? Well then it's definitely possible that Serratos caught your attention when she bared all at 19-years-old for the PETA campaign, "I'd Rather Go Naked Than Wear Fur."
Previously starring in the Nickelodeon series "Ned's Declassified School Survival Guide" and the hit ABC Family show "The Secret Life of the American Teenager," Serratos will be making a move toward a more serious role in season 4 of "The Walking Dead."
According to Deadline.com, the actress will play Rosita Espinosa, a "tough and beautiful" zombie apocalypse survivor who was introduced in Issue 53 of the "Walking Dead" comic book.
Labeled as "Post-Prison Survivors" on "The Walking Dead" Wikia page, Rosita was introduced alongside characters Eugene and Abraham, with whom she had a romantic relationship. In the comics, Rosita's group met up with Rick's crew at Hershel's farm. Like other newcomers, Rick's crew initially didn't trust Rosita's group. Their doubts were increased after Eugene revealed that he knew what caused the plague but refused to disclose the "classified" information. The two groups eventually began to trust each other and merged to continue on their path of survival.
Serratos as Rosita Espinosa is one of the many additions to the upcoming season of "The Walking Dead." Season 4 of the AMC series will also introduce the following characters:
John Tyler: In his early 30s, John Tyler is said to be "vulgar with rough edges," but if you can look past that he's also wise.
Wayne Kesey: Also in his early 30s, Wayne Kesey is very smart but unfortunately also an "experienced liar."
Jordana Barraza: In her late 20s, Jordana Barraza is a tough and beautiful Hispanic woman who is "shamed about her past."
Bob Stookey: Bob Stookey will reportedly be discovered by Daryl before the series picks up the fourth season in October. Set to be played by "The Wire" alum Lawrence Gilliard Jr., "The Walking Dead" showrunner Scott M. Gimple told Entertainment Weekly that Stookey is a former Army medic who has "seen things go bad over and over, and winding up in this stable place doesn't shake him from his experience."
Don: First appearing in episode six, "Rise," Don will be played by actor Danny Vinson. Don is in his 50s to 70s, has a granddaughter and is "sometimes grumpy." The character is a guest role.
Laura: Laura is a single mother and former nurse. It's unknown if her children survived the zombie outbreak.
Mack: Around 30 years old, Mack is an "aggressive wiseass." The character is set to be a recurring role.
Melody: Melody is a "tough and funny" woman.
Patrick: Patrick is the "fair-minded" brother of Mack. Unlike Mack, his character is only set to be a guest role.
"The Walking Dead" season 4 premieres on AMC on Sunday, Oct. 13 at 9 p.m.
© Copyright IBTimes 2023. All rights reserved.