'Walking Dead' Season 5 Spoilers: Watch Sneak Peek Video From Episode 2, 'Strangers'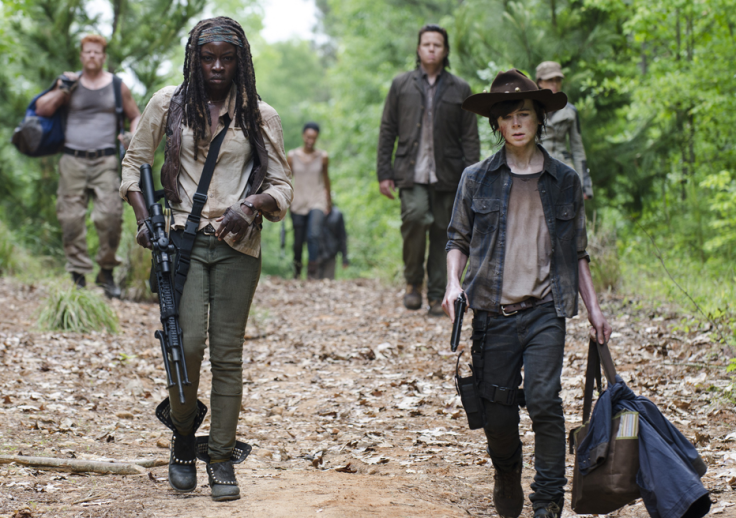 Season 5 of "The Walking Dead" will continue on AMC on Sunday, Oct. 19, with episode 2, "Strangers." Rick (Andrew Lincoln) and the rest of the survivors managed to escape the dangers at Terminus in episode 1, however a sneak peek look at episode 2 teases that they're not in the clear just yet.
As we previously reported, Rick will lead a "risky mission for a possible small reward when the supplies run low." Last time we left them, the group was set with weapons. But with their crew expanding with the addition of Tara Chambler (Alanna Masterson), Dr. Eugene Porter (Josh McDermitt), Sgt. Abraham Ford (Michael Cudlitz) and Rosita Espinosa (Christian Serratos), food may be low.
Where will Rick search for supplies? "Walking Dead" showrunner Scott Gimple teased fans that the series would be revisiting "new versions of old environments" in Season 5. But unfortunately the sneak peek video from episode 2 doesn't give any hints as to where the survivors will be moving to.
The episode 2 sneak peek video shows the newly reunited group walking through the woods in good spirits after escaping Terminus. The camera focuses in on Sasha (Sonequa Martin-Green) and Bob (Lawrence Gilliard Jr.) whose budding romance was explored prior to their capture at Terminus. As Sasha says phrases like "wet socks" and "mosquito bites," Bob counters with the "good out of the bad"– like "cool feet" and "itching reminds you you're alive."
Their back and forth banter puts a smile on Tyreese's (Chad L. Coleman) face, something that viewers haven't seen in some time. But unfortunately that smile drops when a scream for help pierces the air. Rick immediately goes on high alert, wary to aid anybody after their past run-ins with other survivors. However Carl begs his dad and the others to check out the situation.
"The Walking Dead" Season 5 episode 2 will air on AMC on Sunday, Oct. 19, at 9 p.m. EDT. Watch the episode 2 sneak peek video clip below:
© Copyright IBTimes 2023. All rights reserved.