'The Walking Dead' Season 6 Spoilers: Andrew Lincoln Teases More Walkers And 'Ambitious' Storylines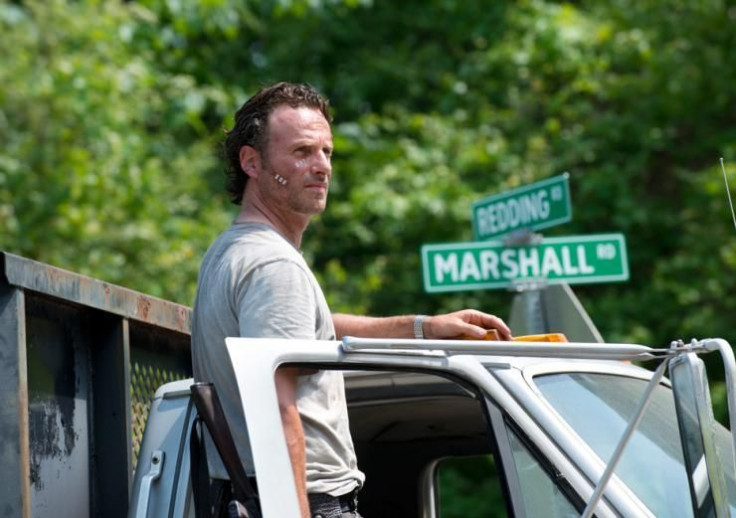 As "The Walking Dead" gears up for its Season 6 run on AMC, fans are likely wondering what they can expect from the hit zombie drama. Now, star Andrew Lincoln is opening up about the upcoming walker threat when the show returns Oct. 11.
Obviously it's the star of the show's job to hype up the show and get people excited to tune in. However, it seems that Lincoln doesn't have a difficult task on his hands given he's able to tease things like an over abundance of walkers - the likes of which fans have never seen before. Speaking to Entertainment Weekly, the 41-year-old actor dropped some key details about the upcoming season, calling it "big," "ambitious" and "brave." He also praised the work of showrunner Scott M. Gimple for the horrors that await.
"There are more walkers than we've ever faced before," he revealed. "I think the storytelling is astonishing. Scott has kind of picked up very much where we left off and he's spinning 18 principal storylines in an incredibly complicated and cool way."
[SPOILER ALERT: The remainder of this article will discuss the Season 5 finale.]
It seems that, similar to the comic books, "The Walking Dead" will pick up right after Rick's (Lincoln) very public execution of Pete (Corey Brill). In the comics, the gunshot attracted a group of rogue survivors to the Alexandria safe haven, and a pretty gritty fight ensued. While it's unclear if the show will remain tethered to its source material in this way, the show did tease some incoming danger for Rick and the gang at the end of Season 5. The infamous "Wolves" suddenly found themselves aware that people nearby had both sprung and survived their trap. So, they'll probably be a problem they have have to deal with immediately.
Meanwhile, Lincoln teased more walkers in Season 6, which is good news for fans of the show's typical gore and violence. As CinemaBlend notes, the new season has created more terrifying monsters than ever before. It's possible that the people working on "The Walking Dead" special effects were actively choosing to make the Season 6 zombies more monster-like to differentiate them from the less-decaying walkers that will be featured on the upcoming companion/prequel series "Fear the Walking Dead." Unfortunately, Lincoln's comments, as well as the trailer below, will have to satiate fans thirst for spoilers until the show returns in October.
What do you think of the upcoming walker and human threats promised in Season 6? Comment below or tweet your thoughts to @TylerMcCarthy.
© Copyright IBTimes 2023. All rights reserved.