'Walking Dead' Season 6 Spoilers: What Happens Next? A Look At The Comic Book Plotline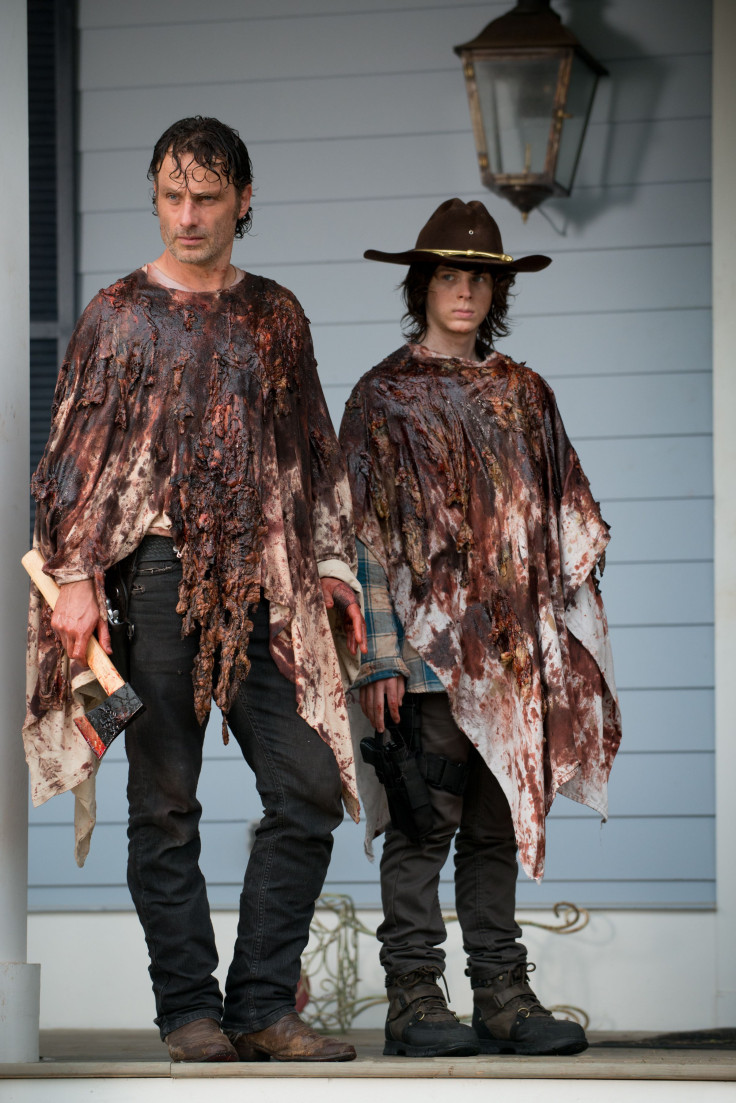 "Walking Dead" fans were left hanging last Sunday when the AMC series ended its Season 6 midseason finale with Rick (Andrew Lincoln) leading a group of survivors into the walker-infested streets of Alexandria. New episodes won't air for a couple of months, but that doesn't mean fans need be in the dark until then. Robert Kirkman's comic book series may shed some light on the drama that lies ahead for the group.
WARNING: Do NOT continue reading unless you want to know what happens in "The Walking Dead" comics.
For those who need a refresher, episode 8 concluded with Rick's group covering themselves in walker guts in order to get past the zombies in the streets. The goal was to make their way to the armory to grab supplies. But viewers didn't get to see if they made it or not. The final moments of the midseason finale showed Jessie's (Alexandra Breckenridge) young son, Sam (Major Dodson), beginning to panic as they made their way off the front porch.
"Mom," he called, as the episode ended.
So, what happens next? This storyline of Alexandria's wall falling plays out in the graphic novels, but as fans of the series know, that's not necessarily an indicator of what's to come. The AMC series has a history of veering off page. However, if "The Walking Dead" follows the comics, here are three moments that could play out on screen:
All Hands On Deck
On "The Walking Dead," Jessie has two sons – Ron (Austin Abrams) and Sam. But in the comics she has only one, Ron. While Sam was the one that was scared in the finale, it's Ron who calls out for his mother in the comics. His voice begins to attract walkers, and Rick tells Jessie to make Ron stay quiet. But by then it's too late. Ron gets bitten, and Jessie is unable to leave him. She refuses to let go of Carl's hand, and Rick is forced to cut off her hand with an ax.
Bad Aim
Douglas is the leader of Alexandria in the comics, but the TV show changed the character to Deanna (Tovah Feldshuh). While Deanna died in the midseason finale, Douglas is still alive in the comics. He tries to help Rick and Carl by shooting at walkers, but his gunfire does more harm than good. Douglas is ultimately bitten by the walkers, and one of his shots ends up hitting Carl in the eye.
The New Game Plan
After Carl is shot, Rick is forced to return home to get him medical attention. Denise (Merritt Wever) is able to start working on him, while Rick does his best to fight the walkers surrounding the house. Other survivors make their way to Rick, and together the group manages to kill a majority of the walkers that made their way inside the wall. As Rick waits for Carl to recover, he begins planning a way to restore Alexandria's wall and protect its people from future hordes.
Season 6 of "The Walking Dead" returns to AMC in 2016. What do you want to see happen to Rick and the others? Tweet your thoughts to @AmandaTVScoop.
© Copyright IBTimes 2023. All rights reserved.