'Walking Dead' Season 7 Spoilers: Episode 7 Synopsis Released; What Will Happen In 'Sing Me A Song'? [VIDEO]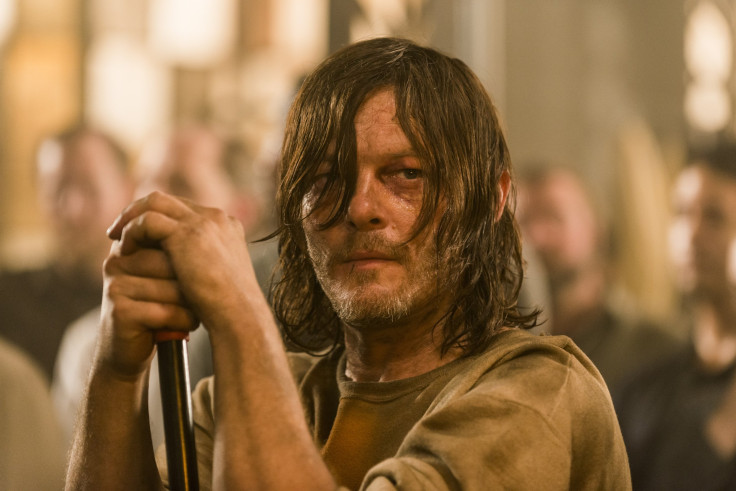 Fans of Robert Kirkman's comic books are probably going to love the next episode of AMC's "The Walking Dead." Not much has been revealed about the extended 90-minute episode, but it's been reported that the title hints at a major scene in the comics between Negan and Carl.
A synopsis (via TV Guide) for next Sunday's episode 7, titled "Sing Me A Song," teases that viewers will get a "much more detailed look into the world of The Saviors and their home, The Sanctuary." It also states that some of the members of Alexandria are on a scavenging mission looking for supplies.
In a promo video (above) from the episode, Michonne (Danai Gurira) is seen traveling alone. She's walking down a dirt road whistling a haunting song as two walkers follow her. Michonne seems to ignore the zombies at first, but eventually drops her bag on the ground, grabs her katana and kills them.
In a sneak-peek video (below), Rick (Andrew Lincoln) and Aaron (Ross Marquand) are still out looking for supplies to bring to Alexandria before Negan's (Jeffrey Dean Morgan) next visit. It's not clear where Rick and Aaron are headed, but the clip shows them hopping a fence that has a note attached to it warning that trouble lies ahead. In the video, it appears that Carl (Chandler Riggs) and Jesus (Tom Payne) make it to The Sanctuary, and Negan is heard addressing his men. "We survive. We provide security. We bring civilization back to this world. Rules are what make it all work," Negan says. "There is always a cost. We are the Saviors."
Although the synopsis and videos don't reveal much about episode 7, ComicBookMovie.com reported that fans should expect to see a huge comic book scene between Carl and Negan. In one of Kirkman's comics, Carl makes his way to The Sanctuary but is caught by Negan.
Instead of killing him, Negan tortures Carl by making him remove the bandage on his eye and singing him a song. Of course, "The Walking Dead" is known for straying from the comics so fans will have to until next week to find out if that iconic comic scene makes it on the show.
"The Walking Dead" airs Sundays at 9 p.m. EST on AMC.
© Copyright IBTimes 2023. All rights reserved.