'Wall Of Moms' Goes Viral As Portland Mothers Gather To Protect Black Lives Matter Protesters
KEY POINTS
A group of local mothers has been seen at several Portland protests since Saturday, helping protect protesters from alleged police brutality and detainment by federal agents in unmarked vehicles
The group, dubbed the "Wall of Moms," has grown from around 30 to over 70 since first going out in support of Black Lives Matter
Images and videos of the group have gone viral on social media of the group's efforts to protect protesters
Dozens of mothers in Portland, Oregon, have come out in support of the Black Lives Matter protests and to help protect demonstrators from the alleged brutality and detainment reported in the last week by federal agents and police.
The group has been dubbed the "Wall of Moms" on social media, with videos and images of their human wall appearing online.
The group was last seen on Monday outside the Portland Justice Center standing between police and protesters, chanting "moms are here! Feds stay clear!" As the even wore on, upwards of 2,000 protesters stood behind the mothers, according to oregonlive.com.
"We are about protecting peaceful citizens' right to protest," Portland resident Bev Barnum told Buzzfeed News.
Barnum is one of the women responsible for organizing the mothers, who first appeared protecting protesters on Saturday after seeing videos of alleged police brutality on social media.
"I thought I needed to do more so I asked the Portland working moms group to protest with me – to shield the protesters from harm with our 'mombods,'" Barnum said.
She gathered a group of around 30 mothers, who were first seen outside a federal courthouse on Saturday wearing yellow shirts in front of about 400 protesters. The group grew to as many as 50 when it was seen again on Sunday, then to about 70 on Monday.
But as their numbers grew, police response intensified one of the mothers said.
"It was a little bit before 11 p.m. (Saturday) when (federal agents) came marching up the street fully camouflaged with rifles pointing at us," Michelle Schardt told NBC News. "One of them did a full-on, two-arm running shove at one of the moms. They threw flash-bangs at our feet. They threw gas at us right away. And that felt really wrong to me."
Barnum said their presence has protected many of the protesters as many of the mothers noticed police and federal agents exercising restraint when the moms are present.
"This is about Black moms every day losing their children, husbands, brothers, friends," Portland resident and "Wall of Moms" participant Brenna Burnett told Buzzfeed. She was also adamant that the work of the mothers not overshadow the message of the ongoing protests.
"This is about Black Lives Matter," Burnett said. "This is not about white women coming in to save the day."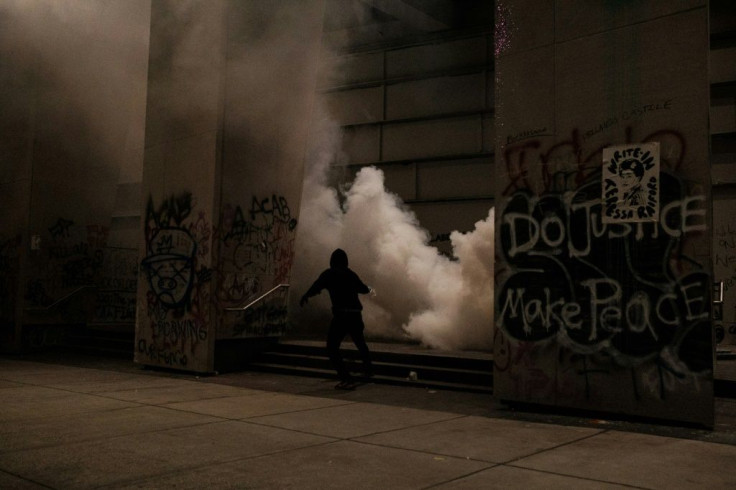 © Copyright IBTimes 2023. All rights reserved.