Wall Street extends recent slide, down 2 percent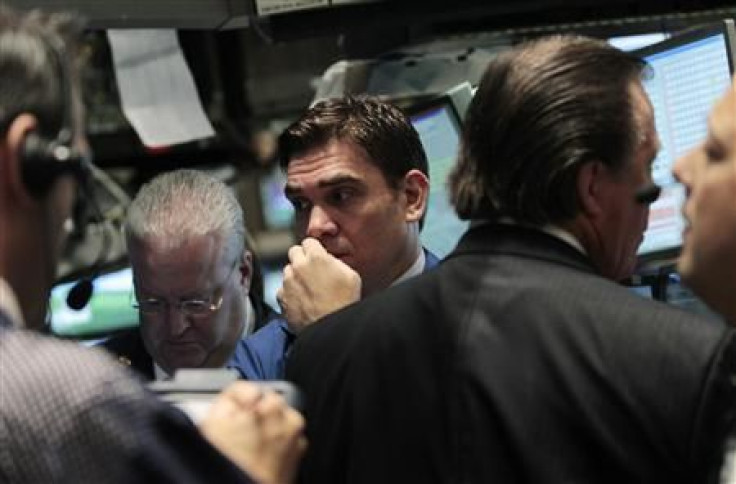 Investors fled stocks on Thursday, putting the S&P 500 into correction territory, on escalating worries about the U.S. economy and Europe.
All three indexes were down 2 percent, falling more than 3 percent each at one point, and declining stocks were beating advancers on the New York Stock Exchange by 11 to 1.
"This morning, the dam broke. Capitulation sell-off. All asset classes, elevated volume, indiscriminate," said Peter Kenny, managing director at Knight Capital in Jersey City, New Jersey.
Analysts predicted further losses ahead, given the strong degree of pessimism in the market.
The day's drop follows a string of market declines following concerns about the outcome of talks to cut budget deficits in Washington, increasing evidence of U.S. economic weakness and a spreading debt crisis in Europe.
Losses were strong across the board. Among stocks hitting new 52-week lows were Bank of America, down 4 percent at $9.16, Citigroup, down 3.2 percent at $36.05, and Hewlett-Packard, down 2.6 percent at $33.38.
But among sectors, losses in energy and materials outpaced others, with both the S&P energy and materials down more than 4 percent each. Oil futures were down about $4 a barrel in New York.
The S&P 500 fell for seven straight days before rebounding Wednesday. Its losses since its May 2nd intraday high have now reached more than 10 percent, putting it in correction territory. The CBOE Volatility index jumped to its highest since March.
The Dow Jones industrial average was down 275.72 points, or 2.32 percent, at 11,620.72. The Standard & Poor's 500 Index was down 29.27 points, or 2.36 percent, at 1,230.57. The Nasdaq Composite Index was down 63.75 points, or 2.37 percent, at 2,629.32.
The S&P 500 is now down 2.5 percent for the year and the Nasdaq is down 1.4 percent. The Dow briefly fell into negative territory for the year.
First-time claims for unemployment benefits edged down to 400,000 last week, the Labor Department said.
The figure comes a day before the government's monthly payrolls report, one of the most closely watched numbers measuring the U.S. economy.
Overseas, the European Central Bank signaled it was buying government bonds in response to a deepening European debt crisis.
"You can pick your story for why we're seeing continued pressure. Europe is probably the most prevalent one today, but there's the whole unfortunate process with the debt ceiling, combined with weak economic numbers here and abroad. That makes for a perfect storm for stocks," said Walter Todd, who helps manage $950 million at Greenwood Capital in Greenwood, South Carolina.
A series of breaks in technical support suggests further losses, according to market technicians.
"It doesn't look good," said John Kosar, director of research at Asbury Research in Chicago. "Frankly, you have to look pretty hard to find anything technically that looks constructive."
He sees another 5 percent to 8 percent in losses in the S&P 500 from this point.
© Copyright Thomson Reuters 2023. All rights reserved.