Walmart 'Bulletproof: Black Lives Matter' Clothing To Be Pulled Off Shelves After Pressure From Police Organization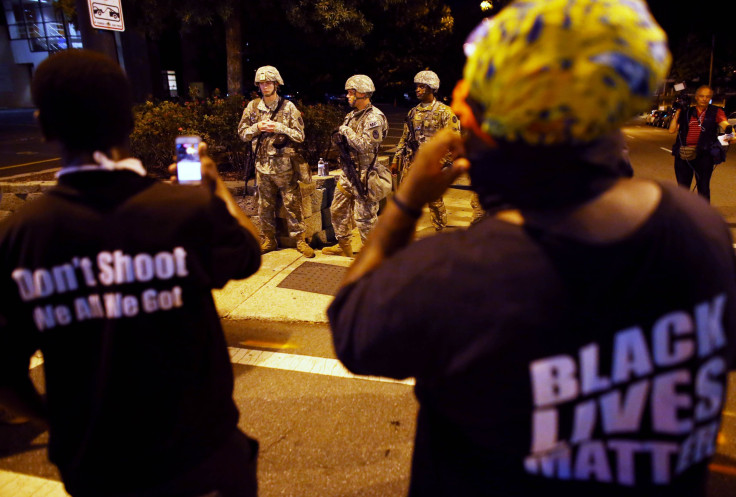 Walmart on Tuesday announced its decision to remove "Black Lives Matter" clothing items that say "Bulletproof" after it received a letter from the president of the national Fraternal Order of Police (FOP), the country's largest police organization, asking them to stop selling the clothing on the departmental store's website.
However, while Walmart did heed to that particular request, it refused to remove other "Black Lives Matter" clothing, a demand that was put forth by FOP President Chuck Canterbury in his letter sent to Walmart on Tuesday.
"Black Lives Matter" is a slogan and an international protest movement that began after the death of Trayvon Martin. It campaigns against violence and systemic racism toward black people. The movement is considered to target law enforcement and has inspired a counter pro-police movement called "Blue Lives Matter. The pulled off clothing say "Bulletproof" with "Black Lives Matter" beneath that line.
In an article titled "Walmart Selling Black Lives Matter Shirts with 'Bulletproof' on Them" posted last week, Breitbart.com, the news organization known for its far-right views, directed attention toward Walmart and characterized the "Black Lives Matter" movement as a "hate or terrorist effort."
It also incorrectly stated that the "questionable" merchandise was being sold by Walmart when in fact it was being sold on Walmart's website by Old Glory Merchandise, a Connecticut-based music and entertainment apparel dealer.
In his letter addressed to Walmart CEO C. Douglas McMill, Canterbury advised the former to refrain from was selling "offensive shirts and sweatshirts." Canterbury also accused the "third party" of "profiting from racial division."
"I urge you to prohibit the use of the Walmart name and website for the retail sale of these products," read the letter.
Canterbury added: "I am concerned that allowing these articles to be sold in this way will damage your company's good name amongst FOP members and other active and retired law enforcement officers…Commercializing our differences will not help our local police and communities to build greater trust and respect for one another."
In response, Walmart issued a statement Tuesday night, according to Washington Post, that said: "Like other online retailers, we have a marketplace with millions of items offered by third parties that includes Blue Lives Matter, Black Lives Matter, and All Lives Matter merchandise. After hearing concerns from customers, we are removing the specific item with the 'bulletproof' reference."
Walmart has had a history of controversies regarding the sale of items and for pulling items off their shelves. For instance, back in 2006, the company was forced to reverse its policy and stock emergency contraception pills in all of its pharmacies after losing a lawsuit filed in a Massachusetts court.
Another incident in 2006 that caused embarrassment to Walmart involved their retail website, which linked four films about iconic African Americans to "Planet of the Apes" and "Willy Wonka and the Chocolate Factory" through their customer recommendation system . Walmart dodged the bullet and shrugged off the criticism that called their web site racist by claiming that it was due to human error.
© Copyright IBTimes 2022. All rights reserved.
FOLLOW MORE IBT NEWS ON THE BELOW CHANNELS