Trump On African-Americans: Anti-Black Lives Matter Ray Lewis, Jim Brown To Meet With President-Elect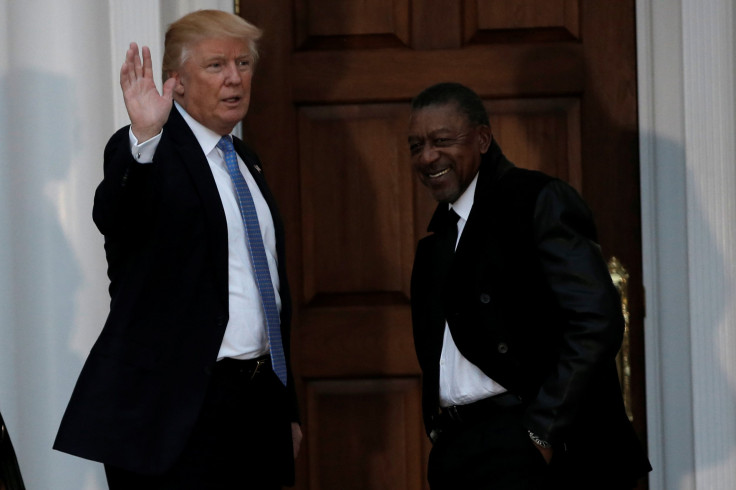 Days after offering controversial rhetoric about African-American voters, President-elect Donald Trump has scheduled a meeting to address issues having to do with black people, according to a new report. While it was not immediately clear exactly what issues would be discussed at the meeting, the president-elect was reportedly going to be accompanied by two former professional football greats who have checkered pasts and are decidedly against the Black Lives Matter social justice movement.
Ray Lewis, the retired Baltimore Ravens linebacker who agreed to a plea deal and testified against two co-defendants after he was charged with murder in 2000, was expected to be with Trump Tuesday, according to a tweet from ABC News reporter Candace Smith. Not to be outdone, Hall of Fame former Cleveland Browns running back Jim Brown, who has been accused of rape multiple times and admitted to beating women, was also expected to be at the meeting. Both Lewis and Brown are African-American.
Trump, who has offered a number of incendiary comments on American blacks while on the campaign trail, told an audience at his "thank you" tour in Grand Rapids, Michigan, on Friday that the black people who stayed home and didn't vote were "almost as good" as those who cast ballots for him. Trump garnered just 8 percent of the black vote on Election Day.
That comment was reminiscent of when he asked black voters for their support because, as he put it, "what the hell do you have to lose"? He prefaced that statement in August with the following: "You're living in poverty, your schools are no good, you have no jobs, 58% of your youth is unemployed."
The comments were not received well by African-Americans, many of whom felt he was stereotyping them while simultaneously invigorating white nationalist groups, who have seemingly become increasingly emboldened since Trump announced his candidacy last year.
Trump's connection to Lewis was not immediately clear, but the two were in Baltimore last weekend for the annual Army-Navy football game. But Brown has expressed his "hope" for a Trump presidency, which could explain why he will reportedly be at the meeting Tuesday.
Lewis has in the past blasted the Black Lives Matter social justice movement for what he said was ignoring black-on-black crime. Brown has said he does not identify with the social justice movement's cause, telling them to "speak for yourself." Trump, for his part, has blamed Black Lives Matter for encouraging people to kill police officers.
Darrell Scott, a black pastor who has supported Trump's candidacy since the New York billionaire announced his White House run, was also reportedly going to attend the meeting. "I've known him for quite some time. I know he's not a racist," Scott told Cleveland.com ahead of the Republican National Convention in August. "I know he's not a xenophobe. I know he's not a misogynist. And I just would love to be able to convince everyone of that."
© Copyright IBTimes 2023. All rights reserved.