War On Trump: New York City Mayor Bill de Blasio Won't Comply With Trump's Campaign Promises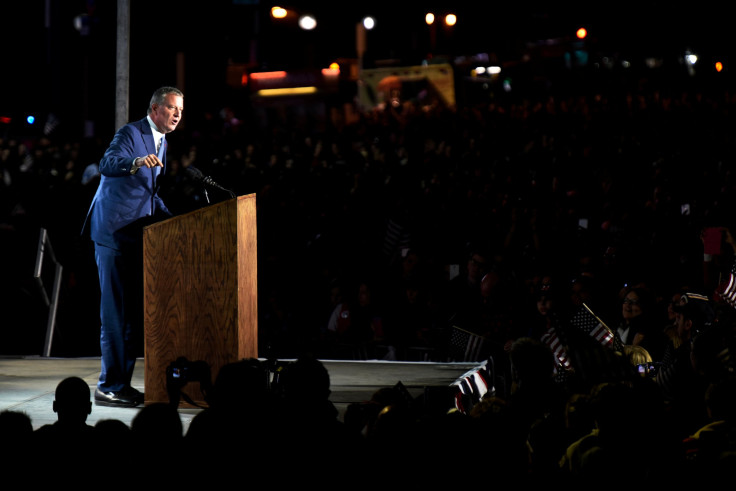 In a speech attempting to ease the quells of New York City's roughly three million immigrants in the face of Donald Trump's presidency, Mayor Bill de Blasio assured his fellow citizens Monday that the city would not establish a Muslim registry, deport any undocumented residents or reinstate stop and frisk law enforcement practices, all of which were campaign promises from the president-elect, a New York City resident.
"A nation that was meant to be built on inclusively has become exclusive against the nostalgic backdrop of taking it to a different time," said de Blasio during the speech. "This is New York. Nothing about us changed on Election Day."
De Blasio spoke directly to immigrants and their family members who fear that Trump's election will result in them being deported or losing their health insurance under the Affordable Care Act. Trump has said that upon taking office he would repeal and replace the Affordable Care Act and deport three million undocumented workers immediately.
De Blasio said he would protest any federal government action to deport undocumented persons living in New York City. He said the city government had an emergency legal fund to provide lawyers to immigrants who cannot afford defense legal fees.
De Blasio, who oversaw New York City committing $30 million toward resources for undocumented immigrants this year, urged everyone in the city to sign up for a local program known as IDNYC that grants immigrants free access to government or other municipal services. He said the paperwork required for admittance to the program would remain solely in the hands of the Mayor's Office of Immigrant Affairs and wouldn't be turned over to the federal government so that no one will get deported.
"I don't anyone to fear getting one. It is something we want all people to hold," said City Counsel Member Vanessa L. Gibson after the speech. "The information is not shared with immigration services or anyone. We are simply allowing New Yokers the chance to have an identification."
De Blasio attributed a recent uptick in hate crimes in New York City to the atmosphere of xenophobia created by the 2016 election's racially charged rhetoric. There were 328 reported hate crimes in New York City through Nov. 13, compared to 150 the city had up until that date last year, a 31 percent increase, according to the New York Police Department.
There were more than 700 incidents of hateful harassment and intimidation since the election throughout the country, the Southern Poverty Law Center reported Friday.
De Blasio said he told Trump in a meeting with the president-elect last week not to "forget where he came from," due to the fact that he, like so many other New Yorkers, was able to find success in the city because of the wealth of opportunities there. He said he told Trump to apply lessons from New York City's greatest value, its diversity, to his presidency. De Blasio pointed out that Trump's 2016 election opponent, Hillary Clinton, won the popular vote by millions of votes, exposing a political divide in the country.
De Blasio, who endorsed Clinton, also said he told Trump, who has repeatedly called for a Muslim registry to be created in the country, there were 900 Muslims serving in the NYPD. De Blasio warned he would take legal action against any attempts by the federal government to install a program that targeted people based on their class, race, ethnicity, gender or religion.
Along the same lines, de Blasio said the NYPD would not continue stop and frisk law enforcement practices under his watch as mayor. "We will not trade in neighborhood policing for racial profiling," he said.
Trump has praised stop and frisk policies under former New York City Mayor Rudy Giuliani, saying he did a "great job" of "straightening" out the city. Under the controversial law enforcement practice, up to 90 percent of people who were stopped by police were not found to have done anything wrong, the Washington Post reported. More than half of the people detained and searched were black, and nearly a third were Latino, according to New York Civil Liberties Union data between 2002 and 2016.
Khalid Latif, the executive director and Chaplain for the Islamic Center at New York University, said after the mayor's speech he was aware of several acts of anti-Muslim vandalism that had occurred on NYU's campus since Trump's election. He said someone spray painted "Trump!" onto the door of a prayer room in NYU's engineering building and another person wrote "Make America White Again" on a wall inside of one of the freshman dormitories.
Hates crimes against Muslims in the U.S. increased by 67 percent during 2015, according to the FBI. Mazeda Uddin, who works as a Bengali translator in the mayor's office and is one of the leaders of ShebaUSA, a nonprofit providing resources for immigrants communities based in Queens, said after the mayor's speech that a 19-year-old youth mental consultant for ShebaUSA, Fariha Nizam, was discriminated against while she was riding the Q43 bus to Hunter College in Manhattan Thursday. Uddin said an elderly white couple tried to physically take the hijab that Nizam was wearing off of her head before telling her to remove it.
Uddin said she feels comfortable walking around New York City with a hijab, especially after de Blasio's speech vowing to provide legal and moral support for immigrant and minority individuals in need.
De Blasio also addressed Trump's campaign promise to appoint Supreme Court Justices who will overturn the landmark ruling in Roe C. Wade, which protects a woman's right to abortion. Trump has said if the abortion ruling were overturned during his presidency, the issue would then be decided by the states, and women living where it had become illegal would be forced to travel to a state where they can have the operation performed legally.
De Blasio assured women they would receive the health care they needed in New York City.
Sumer Samhoury, a physical therapist and a Muslim, said her children had asked her several times what she was planning on doing if someone attempted to take her hijab or issued a derogatory statement about her religious views. She said she hoped de Blasio's message of racial inclusion goes "viral," so that people fearful of Islam can open their minds.
"I thought it (the speech) promoted tolerance and everything that New York city speaks for, the melting pot," said Samhoury after the speech. "I was really proud of our mayor today. It definitely gave me more confidence walking around the streets of New York that we are protected."
© Copyright IBTimes 2023. All rights reserved.