War In Ukraine News Update: Merkel And Hollande Push For New Russia Sanctions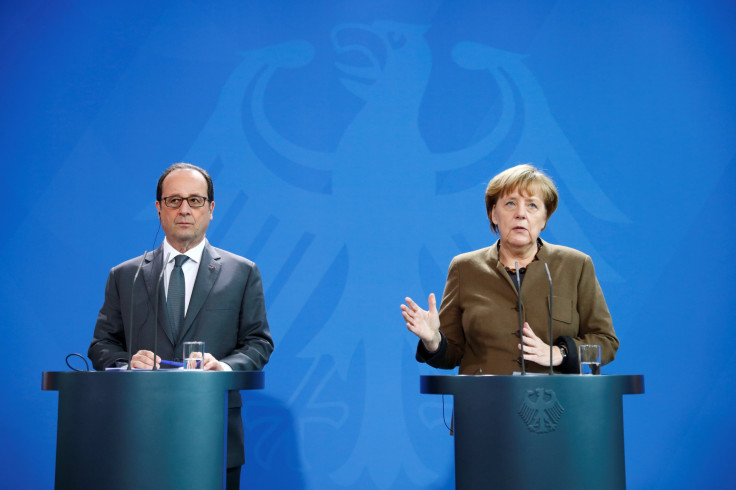 German Chancellor Angela Merkel and French President Francois Hollande have urged the imposition of new sanctions against Russia for the inability to maintain a ceasefire in the conflict with Kiev. The two leaders spoke two days ahead of a European Union meeting establishing Ukraine's association with the EU.
"It will be necessary to extend the sanctions against Russia again, although we would have wished for better progress in the implementation of this process," Merkel said at a Franco-German conference in Berlin, where she was joined by Hollande on Tuesday, Reuters reported. The establishment of a ceasefire between the Russia and Ukraine has been "very sluggish," the German leader added.
Separatist leaders near Ukraine's border with Russia declared a unilateral ceasefire on Sept. 1, the first of such efforts by the rebels — a group known as the Donetsk People's Republic, for the border town where pro-Moscow sentiment is strong — since the 2014 Minsk agreement. Russia backed the weeklong peace declaration, while French and German foreign ministers praised the conflict's temporary halt, which was intended to coincide with the start of the Ukrainian school year.
Still, just five days after the ceasefire, Kiev officials said one soldier and one rebel had been killed. Rebels had fired mortars at Ukrainian troops near the city of Mariupol, the Associated Press reported. More recently, late November peace talks between German, French, Russian and Ukrainian foreign ministers, ended unsuccessfully.
"We must continue to apply the terms of the Minsk agreement, and when they are not carried out, we must continue with sanctions," Hollande said at the conference Tuesday.
The French leader and his German counterpart were not alone in advocating for a harsher Russia stance.
In a Wednesday press conference, NATO Secretary General Jens Stoltenberg lambasted Russia for "massive ceasefire violations" and Moscow's inability to help broker a peace deal at the end of the previous month.
"The international community must keep pressuring Russia to respect its obligations, especially while the security situation in eastern Ukraine remains so serious," Stoltenberg said. "It's important that economic sanctions be maintained."
The European Council, the EU's executive governing body, has scheduled a meeting Wednesday with Ukraine's relationship with the bloc on the agenda.
The conflict in Ukraine, which began when citizens ejected a pro-Russian prime minister from office in the spring of 2014, has resulted in the deaths of close to 10,000 people, a fifth of whom were civilians, according to a Thursday United Nations report.
© Copyright IBTimes 2023. All rights reserved.