Was Joe Kennedy Drooling During Democratic Response To Trump's SOTU?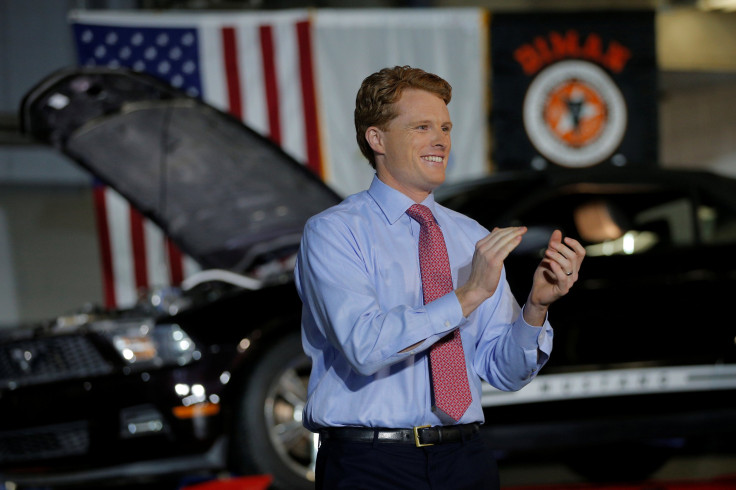 Rep. Joe Kennedy III (D-MA) was chosen to give the Democratic response to President Donald Trump's State of the Union speech on Tuesday, but his lips ended up creating a bigger buzz on social media than his actual rebuttal.
Instead of focusing on the scathing words he aimed at the Trump administration, some Twitter users chose to poke fun at Kennedy's lips, which were glistening as he took the stage to deliver his speech. While his lips appeared normal from one angle, the extra shine on the right corner of it became apparent when he turned his head to the other side.
Various hilarious memes and posts popped up, with some people suspecting Kennedy was drooling during his speech, and others blaming his shiny lips on greasy chicken he may have eaten before gracing the stage.
Soon enough, a parody account was created on Twitter called @JoeKennedyLips. Here are few of the memes and posts that circulated on social media:
But not everyone chose to dismiss Kennedy's speech, as many Democrats praised his passionate words:
Kennedy made sure he reminded listeners of the countless insults and attacks launched by the president since he took office.
"Bullies may land a punch. They might leave a mark," Kennedy said. "But they have never, not once, in the history of our United States, managed to match the strength and spirit of a people united in defense of their future."
The Massachusetts rep. also broke into Spanish at the end of his emotionally charged speech. Talking directly to the young immigrants who live in the U.S., he said: "To all the Dreamers watching tonight, let me be clear: Ustedes son parte de nuestra historia. Vamos a luchar por ustedes y no nos vamos alejar."
He added in English: "You are a part of our story. We will fight for you. We will not walk away."
He severely criticized the administration for playing "a zero sum game where for one to win, another must lose."
"Coal miners or single moms. Rural communities or inner cities. The coast or the heartland. As if the mechanic in Pittsburgh, a teacher in Tulsa and a day care worker in Birmingham are bitter rivals rather than mutual casualties of a system forcefully rigged towards those at the top," Kennedy orated.
"We choose both," he added. "We fight for both. Because the greatest, strongest, richest nation in the world should not have to leave anyone behind. We choose a better deal for all who call our country home."
Kennedy chose to deliver his speech from an autoshop schoolroom in Fall River, Massachusetts, which was apt when it came to underlining the need for a higher minimum wage, paid leave and expanded health care. "Top CEOs making 300 times the average worker is not right," he declared, speaking to the masses.
Although he is not a prominent figure in the Democratic Party yet, Kennedy comes from a family of famous politicians (if his last name is not a dead giveaway).
He is the grandson of former Attorney General and New York Sen. Robert F. Kennedy, who was assassinated in 1968. He is also a great-nephew of President John F. Kennedy, who was assassinated in 1963 and long-time Massachusetts Sen. Ted Kennedy.
© Copyright IBTimes 2023. All rights reserved.