Washington Amtrak Train Derailment: Engineer Applied Brakes Before Deadly Crash, May Have Confused Location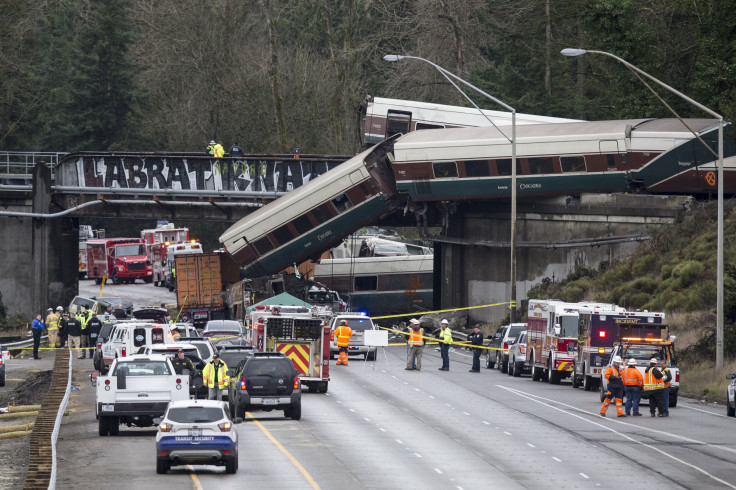 The engineer on the Amtrak train that derailed in Washington state Dec. 18 said he applied the brakes as the train approached the curve, according to a report released Thursday by the National Transportation Safety Board. He may, however, have confused the train's location at the time.
The NTSB was investigating the crash that killed three people and injured others when the train careened off an overpass onto a highway near DuPont. The engineer, a 55-year-old male, said he was aware of the approaching curve. Both he and the conductor were in the lead train car during the accident and suffered serious injuries. They were only able to be interviewed Jan. 15, according to the report.
"[The engineer] said that as soon as he saw the 30 mph sign at the start of the curve, he applied brakes," the report said. "Seconds later, the train derailed as it entered the curve."
The engineer, however, may have confused the location with another portion of the track.
"The engineer said that he did see the wayside signal at milepost 19.8 (at the accident curve) but mistook it for another signal, which was north of the curve," the report stated.
The train was traveling at about 79 mph before the crash, according to the report. The report detailed the accounts from the engineer and the conductor, which the NTSB called "just two sources of information that will be considered as the investigation progresses."
The investigation was expected to yield more information in the coming weeks as personal witness accounts were compared with video captured from inward and outward facing cameras on the train.
"We share everyone's sense of urgency to identify exactly what caused this to happen, and we continue to fully cooperate with the investigation being led by the NTSB," Amtrak president Richard Anderson said in a statement at the time of the crash, according to CNN.
© Copyright IBTimes 2023. All rights reserved.