Watch: California Man Caught On Video Driving With Dog Tied To Car
Police in Lancaster, California, on Monday were investigating video footage that showed a driver in the area "walking" two dogs by tying one of the animals to his car as he drove along.
The video was posted on Facebook by another user and was captured March 31 near St. Paul's Episcopal Church on Avenue K near Sierra Highway, according to Facebook user named Desiree Nicole. The video went viral after it was posted last week, and had garnered more than 35,000 views at the time of publishing this story.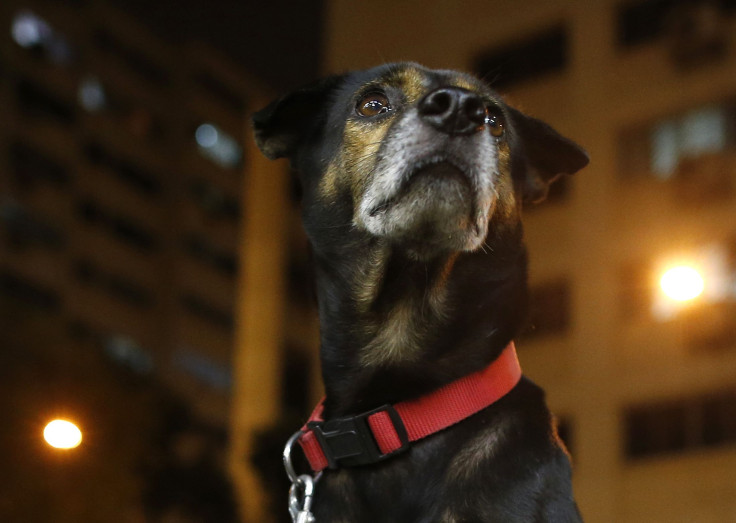 Nicole said she began video recording the incident when she spotted the unidentified driver dragging his female German Shepherd on a leash, tied to the driver's car. The driver also allegedly kneed the dog, yanked her out of the vehicle and kicked her, according to Nicole who claimed she was present at the scene.
"Once I caught up to him and told him his dog was simply not able to keep up and he was dragging her he became very vulgar and aggressive," Nicole wrote on her Facebook post along with the video.
She added that the dogs appeared to be in good health, as they were seen walking alongside the car.
Nicole posted a photo of the driver in the car, who is yet to be identified by the authorities.
Nicole stated that the police in California will forward her report on to animal control officials, but added that she hopes posting the video online will force the driver to change his ways.
"What this man was doing was abuse/cruelty. I hope me following him and reporting him will make him think twice about the treatment of these beautiful dogs," she wrote.
Similar incidents of animal abuse have taken place earlier. In 2016, a video recorded in China showed a driver dragging a pet dog on a leash behind an SUV. The dog was later pronounced dead on the streets from its injuries.
In another shocking incident in 2014, a video showed a man tying a stray dog to his car with a rope and then dragging it through the city to "teach the animal a lesson for biting his son."
The stray dog identified as Paco, 5, was left with four broken legs and ripped holes in the bottom of his paws after he struggled to stay on his feet as the car sped through the streets of Salamanca de Monterrico located in Central Peru.
© Copyright IBTimes 2022. All rights reserved.
FOLLOW MORE IBT NEWS ON THE BELOW CHANNELS