WATCH: Gourmet Squirrel Steals Fancy Chocolates, Lip Balm From New Jersey Home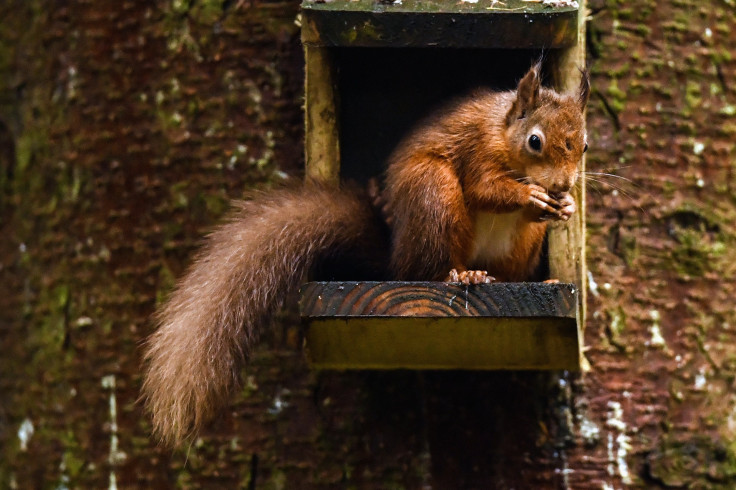 A New Jersey family's holiday spirit was crushed Thursday when an unusual thief swiped all the expensive chocolates from a "treat table" they had put out for delivery people through the holiday season.
But when the family set a trap to catch the thief for the act, they were surprised to find that it was actually an obese squirrel, who stole gourmet chocolate and lip balm from their treat tray.
"We spot the FATTEST squirrel. I mean, this squirrel is so obese— a jolly ol' chap — he must be prepping for a decade of winters," Michele Bourdreaux, of Maplewood, New Jersey, wrote in her blog post about the bizarre incident.
"This squirrel went from being the biggest jerk ever to becoming the greatest fuzzy freak I've ever not quite met," she said.
"He's digging and digging and digging and then he TAKES OFF toward our backyard carrying whatever he possibly can," she wrote.
Bourdreaux explained that she and her family set up an elaborate display of treats outside their Maplewood residence for delivery workers coming by, and this year the unusual thief targeted all the priciest stuff, including about 25 squares of Ghiradelli chocolate, she said. Nearly all the chocolates were gone within hours of them spreading the treats.
"I couldn't believe it. Why would someone do such a thing?" the mother of three wrote. "This thief took the good stuff. And I wanted to cry."
The family set up a surveillance camera in order to catch the chocolate thief, but the footage revealed the surprising, and adorable thief. They then put the chocolate in a squirrel-proof container and also left some nuts and bird seeds for the rodent.
"We now have our chocolate in a jar that requires opposable thumbs," she wrote.
© Copyright IBTimes 2023. All rights reserved.