WATCH: K-Pop Group MIRAE Dances To SB19's 'Gento'
KEY POINTS
MIRAE was featured on 1theK Originals' "Count Dance"
MIRAE danced to the latest K-pop dance trends, including XG's "Shooting Star" and SB19's "Gento"
Fans praised MIRAE for slaying "Gento"
MIRAE stunned the Pinoy pop community (P-pop) with an impressive dance cover of SB19's "Gento."
MIRAE members Lien, Lee Jun-hyuk, Yoo Dou-hyun, Khael, Son Dong-pyo, Park Si-young and Jang Yu-bin appeared in the latest episode of 1theK Originals' "Count Dance," taking on the challenge of dancing to the latest dance trends in K-pop as well as the Southeast Asian pop music community (SEA-pop).
In the video, the South Korean pop boy group started with a short cover of ATEEZ's "Bouncy (K-Hot Chilli Peppers)," before dividing into groups of three to dance to XG's "Shooting Star," LE SSERAFIM's "Eve, Psyche & The Bluebeard's Wife," ATLAS' "My Treasure," NCT DREAM's "Broken Melodies," and SB19's "Gento."
The P-pop community couldn't help but praise MIRAE for slaying the choreography of "Gento" — released by SB19 members Pablo, Stell, Ken, Justin and Josh in May as part of their recent album, "Pagtagtag."
In the cover dance medley, Dou-hyun, Khael and Si-young were the ones who performed the cover.
Fans immediately flocked to the comments section of the video, which has garnered over 88,000 views as of press time, seemingly awestruck that SB19 has gained such recognition internationally.
"MIRAE really slayed the 'Gento' part! SB19 is really paving the way now. I'm so proud! P-pop x K-pop," one user said.
Another commented, "Oh! First time seeing a K-pop group covering P-pop songs in this kind of segment. So, refreshing! Good job MIRAE!
"You [slayed] everything, but the 'Gento' part is on another level!!!" a third user said.
"I am loving the popularity of 'Gento' [right now], it's so deserved," a fourth user commented on the clip uploaded by social media user @intoszmc on Twitter.
"As a Filipino who enjoys [K-pop] and a silent fan of @SB19Official, I'm really [amazed by] how 'Gento' [reached] Korea. A [K-pop] group covering a P-pop group song at '1theK'??? Sheesh, [SB19] made this. KINGS for a reason," a fifth user praised.
Another commented, "P-pop is surely on the rise, and this is all thanks to @SB19Official. Look how far you've come. I feel an international breakthrough coming very soon."
MIRAE is a seven-member K-pop group that debuted under DSP Media in 2021, releasing its first mini album "KILLA." It's best known for the songs "Marvelous," "Drip N'Drop," "Snow Prince," and "Splash," among others.
The group is slated to return with new music this month with its fifth mini album, "Boys Will Be Boys." It will be available on music streaming platforms Wednesday.
Meanwhile, SB19 is one of the most popular pop acts in the Philippines. The group previously topped Billboard's hot trending songs powered by Twitter, ranking No. 1 with its track "Bazinga" for seven weeks. "Gento" also peaked at No. 8 on Billboard's world digital songs sales chart, while SB19 ranked No. 5 on Billboard's emerging artists list.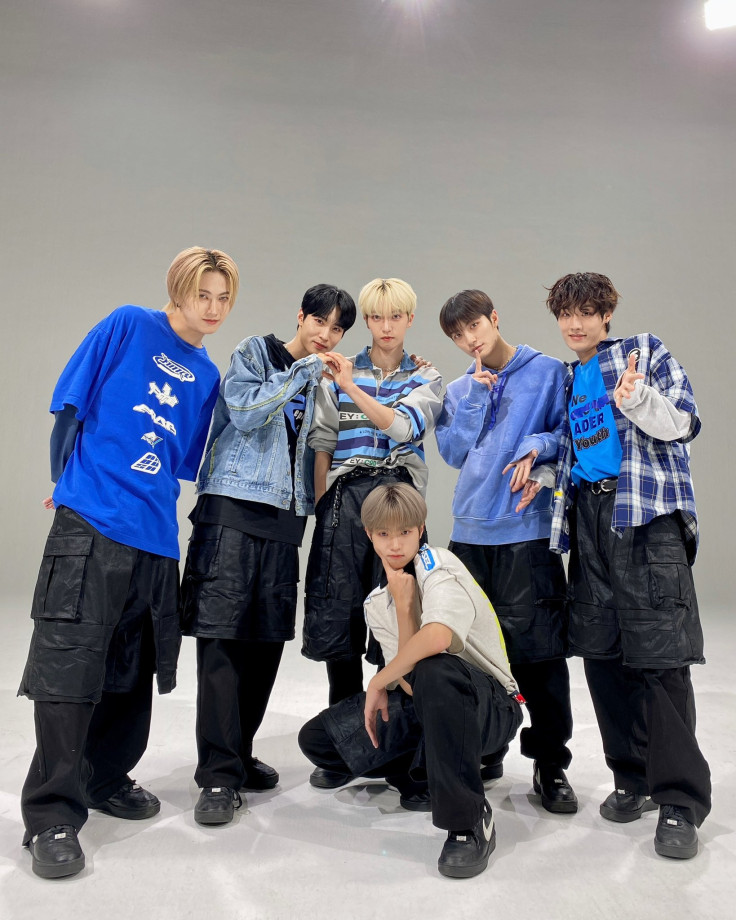 © Copyright IBTimes 2023. All rights reserved.