Watch: Man Threatens Student With Knife At PTA Meeting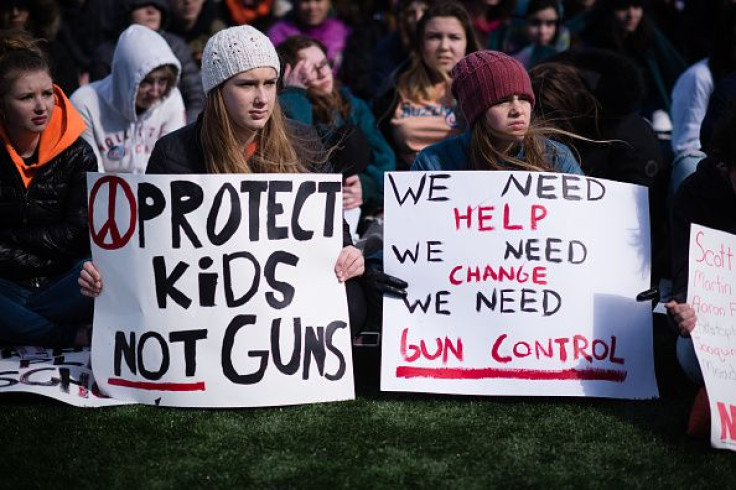 A man in Rocky Point High School, New York, was politely escorted out for wielding a knife in front of a student during a Parents Teachers Association meeting Wednesday. The meeting was called to discuss issues of safety after some of the students ignored the school's stance and participated in the National School Walkout calling for gun control. The students who took part in the protest were reportedly suspended by the school.
A student, who was present at the meeting, recorded the incident and shared it on Twitter. In the video, the man can be seen having an intense argument with a student before he pulled a knife out of his pocket and challenged "What you gonna do now?" The student visibly shaken takes a step back. Meanwhile, nobody steps up to contain the situation.
"I'm disgusted to even say that this is my HS [high school]. They never fail to consistently silence the students and allow for behavior like this to be inflicted on the kids. Let them f------ protest. Let them stand up for what's wrong. Let them feel SAFE!" a former student tweeted on the incident.
People on social media deplored the man's action.
One person on Twitter said, if the person in the video was trying to stress the importance of a gun with a "knife argument," it was poorly done.
Jo Herman, the student who posted the video, was allegedly suspended from school for a day and was prevented from taking part in any school activities in the following three days for taking part in the protest that had hundreds of thousands of students streaming out as part of the National School Walkout. The protesters called on lawmakers to a pass gun control legislation in honor of the students killed in the Parkland, Florida school shooting last month.
The march, spurred by the survivors of Parkland shooting, is swiftly gaining momentum across the nation. The March 14 protest was just the beginning of the student activism against gun violence. Thousands are expected to gather in Washington, D.C., for a "March for Our Lives" protest on March 24, organized by the survivors of the shooting occurred at Marjory Stoneman Douglas High School in Florida.
Lane Murdock, a sophomore at Ridgefield High School in Connecticut, who started a petition for a walkout on April 20 told Vox News, "There is a lot more to come, it's big enough that it scares me. It's going to be hard — but it's realistic enough that I know we can get it done."
American Civil Liberties Union in New Jersey was aiding the students, by preventing schools from punishing those who choose to march on National School Walkout.
In a tweet, it said, "We're collecting stories of student discipline post-walkout in NJ. If your school has imposed disproportionate punishment for participating in today's #NationalWalkoutDay, drop us a line."
© Copyright IBTimes 2023. All rights reserved.