WATCH: Meteorologist vs. Hurricane Irma In Key West Video Goes Viral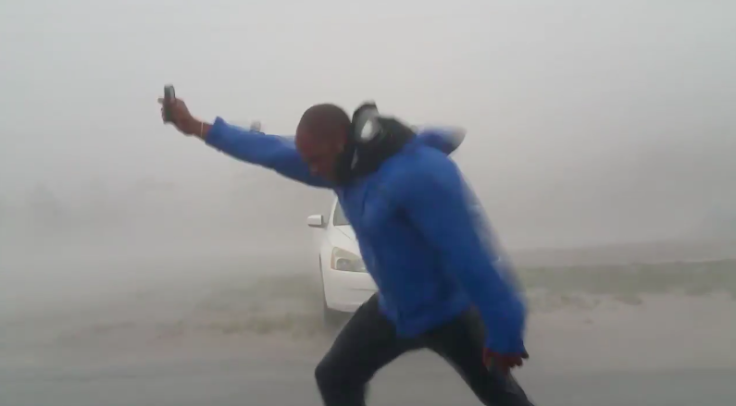 A video of a meteorologist fighting against Hurricane Irma in Key West, Florida, went viral Sunday as the winds nearly knocked the reporter off his feet. With more than 200,000 views and over 11,000 up votes, it became one of the top-trending clips on Reddit, though not much information was included with the short clip.
The tag for the video was appropriately labeled, "Maybe don't do this."
While battling a storm might have looked fun to some, Reddit advised that people experiencing the storm to remain indoors. "We here at /r/Videos would like to remind anyone that this man is a highly trained professional and to not try this at home. All characters and events in this show are entirely fictional. Any resemblance to persons, living or dead, is coincidental," a stickled comment said.
The top comment said: "This is how you get cut in half by sheet metal."
The National Weather Service announcement for the Florida Keys advised that people should avoid walking or driving through floodwaters. "Just 6 inches of moving water can knock you down, and fast-moving water can sweep your vehicle away," they wrote.
If a person has to walk outside, they should do so with caution. "Storm damage such as downed power lines and fallen debris could injure you," the statement said.
Hurricane Irma is currently a Category 4 storm with sustained winds of 130 mph.
"There is a serious threat of significant storm surge flooding along the entire west coast of Florida," Gov. Rick Scott explained during at a noon press conference. "And this has increased to 15 feet of impact above ground level in southwest Florida."
Storm surges in Miami Beach swallowed the streets. "There are areas of south Florida and the Keys that have already had 12 inches of rain," Scott said.
Nearly 6.3 million Floridians were told to evacuate ahead of the storm, but not everyone listened. Brian Cone, a boat captain in Tavernier in the Florida Keys, didn't leave because Florida as a whole wasn't safe.
He decided to take refuge in cement-built home. He called it his "bunker."
"Truthfully, the whole state of Florida is in trouble. I mean, there's really nowhere safe," Cone told MSNBC in a phone interview. "We feel it was more dangerous to travel all over the state, run out of fuel possibly," he said, adding: "We're gonna ride it out."
At least 24 people died from Hurricane Irma's wrath. Millions are without power.
Follow me on Twitter @mariamzzarella
© Copyright IBTimes 2023. All rights reserved.