Watch Morley Safer To See Why It's A Big Deal He's Retiring After More Than 50 Years At CBS News, '60 Minutes'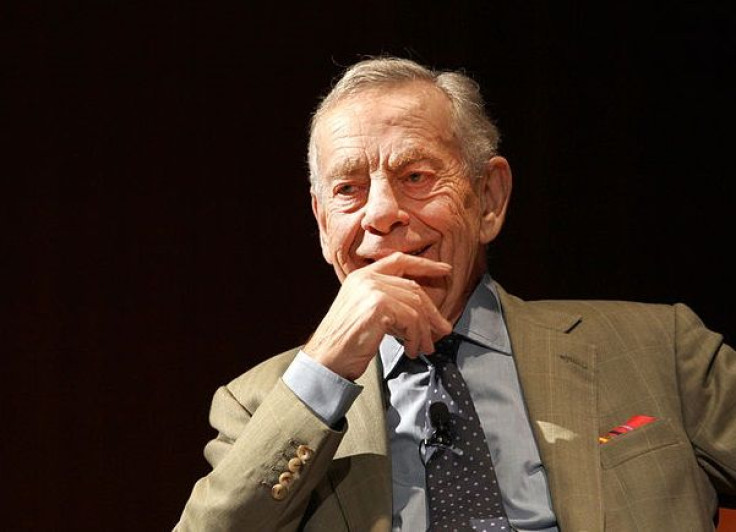 Editor's note: Morley Safer died Thursday at age 84, just days after retiring from CBS News, Reuters reported. The International Business Times story below was initially published last week, after word of Safer's retirement plans.
Morley Safer is disconnecting his microphone.
The 84-year-old, longest-serving correspondent on "60 Minutes" is retiring after more than a half-century of covering the world, CBS News announced Wednesday.
"It's been a wonderful run, but the time has come to say goodbye to all of my friends at CBS and the dozens of people who kept me on the air," Safer told CBS News. "But most of all I thank the millions of people who have been loyal to our broadcast."
"Morley has had a brilliant career as a reporter and as one of the most significant figures in CBS News history, on our broadcast and in many of our lives," Jeff Fager, executive producer of "60 Minutes," said in a statement.
Unlike the current age of digital journalism that all too frequently requires online users to cobble together an understanding of news events through a stream of abbreviated quick hits and short video takes, Safer's work was based in an era that focused on carefully dissecting events and providing readers with a complete picture of a story in carefully crafted segments.
Safer may be best known for his work exposing the bleak tactics the U.S. employed during the Vietnam War that alienated the rural population in that country, trapped between the global forces of communism and capitalism during the Cold War. Just a year after joining CBS News in his early 30s in 1964, the Canadian-born reporter followed a group of U.S. Marines on a search-and-destroy mission in the village of Cam Ne. Safer showed Marines instructing locals in English to evacuate their homes as the troops casually light thatched huts afire with their cigarette lighters and flamethrowers.
The report helped mark the beginning of increasingly critical media coverage of the U.S. war in Southeast Asia. It angered President Lyndon B. Johnson so much, he had Safer investigated for ties to communism. When told by staffers that Safer was "just a Canadian," the president replied, "Well, I knew he wasn't American."
Safer's early big journalistic coup — few correspondents garner any attention from a U.S. president, much less get probed at the behest of one — was followed by a series of award-winning in-depth analyses and reports, including coverage of the Northern Ireland conflict in 1974 that spotlighted a divided town and a dive into the dark pool of art forgery.
Safer won more than two dozen awards, including 12 Emmys and the Robert F. Kennedy Journalism Award for coverage of a school for the homeless.
Safer went on to produce hundreds of reports for "60 Minutes," 919 of them in all. His last piece ran in March, a profile of Danish architect Bjarke Ingels.
While much of his work focused on covering global conflicts, exposing injustices or highlighting social issues, Safer often used his great command of the language to produce lighthearted pieces. After U.S. Supreme Court Justice Antonin Scalia died this year in Marfa, Texas, Safer's 2013 profile of the quirky desert town suddenly attracted new interest.
And what about those U.S. soldiers he covered back in 1965?
"[Safer] was all business and he reported what he saw ... We looked at eternity right in the face a couple times ... and he was as cool as a hog on ice," U.S. Army Brig. Gen. Joe Stringham told CBS News for a segment about Safer's career that "60 Minutes" will present Sunday at 8 p.m. EDT.
© Copyright IBTimes 2023. All rights reserved.
FOLLOW MORE IBT NEWS ON THE BELOW CHANNELS