Watch The 'Saturday Night Live' Cold Open
Last night's "Saturday Night Live" took aim at President Trump's sons and the Russia investigation. The cold open showed the men meeting with WikiLeaks founder Julian Assange.
The "SNL" skit starts off in a parking garage beneath the Ecuadorian Embassy in London. Eric (Alex Moffat) and Donald Trump Jr. (Mikey Day) meet Julian (Kate McKinnon), but Eric isn't much of a business man. "He looks like Draco Malfoy," Eric says to Julian.
"Eric, that was rude. What did we say about making fun of people's appearances, bud?" Don Jr. says.
"That's Dad's thing," Eric says.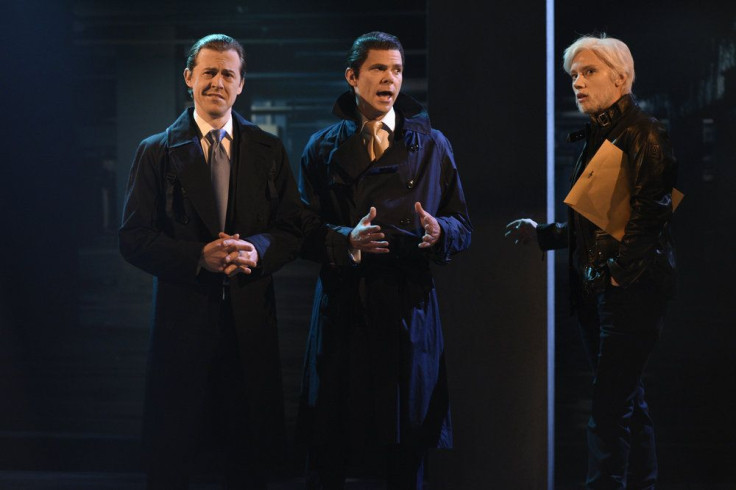 Don Jr. knows he was supposed to come alone, but having Eric here is the same as having a tiny child. He just wants to get some McDonalds after this. Julian hands over the file with dirt on Hillary Clinton. Don Jr. puts the top-secret information into Eric's "Minions" backpack. After all, it never leaves his side.
Julian needs something in return. He wants all espionage charges against him cleared. Don Jr. assures Julian that his father takes care of his friends. "What about Chris Christie? And Rudy Giuliani? And Mom?" Eric points out.
Don Jr. gives Eric a light-up toy to distract him and promises Julian that he will be taken care of once Trump wins the election. He asks Julian to do one more thing with him before the "SNL" sketch ends.
Watch the "Saturday Night Live" cold open below:
"SNL" airs Saturdays at 11:30 p.m. EST on NBC.
© Copyright IBTimes 2023. All rights reserved.