WATCH: Screaming Hairy Armadillo Pups Born At National Zoo For First Time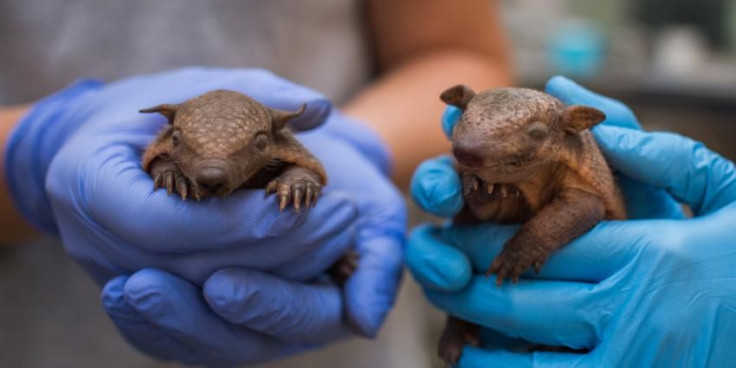 Two tiny screaming hairy armadillos became the first of their species to be born at the Smithsonian National Zoo in Washington, D.C., earlier this month. The zoo announced Thursday the as-of-yet unnamed pups were born on Aug. 11.
Screaming hairy armadillos get their names from the squealing noise they make when they feel threatened – as well as their abundant hair, which is not found on most other armadillo species. The mammals typically grow to only about two pounds, while the newborns weighed in at only around 150 grams. In addition to their high-pitched squeals and hairy carapaces, the armadillos have some other quirky traits.
Screaming hairy armadillos don't require much water, as their kidneys allow them to go long periods of time without drinking. The species is also known for eating large quantities of sand: some armadillos have been discovered with more than 50 percent of their stomachs filled with sand from foraging for food.
Born to armadillo parents Amber and Dylan Walter, the Smithsonian's two pups were the first babies for the pair. It had not been determined yet whether they were male or female armadillos, as it was too early to tell for certain.
Native to Paraguay, Bolivia and Argentina, squealing hairy armadillos were recommended to be bread by the Association of Zoos and Aquariums' Screaming Hairy Armadillo Species Survival Plan, the Smithsonian said. The species is listed as one of "least concern" with the International Union for Conservation of Nature – meaning it does not qualify as being "critically endangered, endangered, vulnerable or threatened."
The Smithsonian's two pups were still in the very early stages of their lives and had not yet opened their eyes. Once they get larger and more comfortable, the pups will be available for viewing at the zoo's small mammal enclosure.
© Copyright IBTimes 2023. All rights reserved.