Watch 'SNL' Star Kate McKinnon's Top 9 Political Impressions
Kate McKinnon is a shining star in the "Saturday Night Live" cast. The Emmy winner has delivered tons of funny characters, but her best work seems to be in sketches where she is doing impressions of political figures.
"SNL" just keeps throwing new government employees at McKinnon, and she continually nails the impersonations. Watch nine of her impressive performances below:
Robert Mueller — McKinnon debuted her latest political impression in the Jan. 20 episode of "SNL." She played the former FBI director, who is currently the special counsel leading the Russia investigation, and she was able to put on new prosthetics for the part.
Hillary Clinton — This is perhaps McKinnon's most famous political impersonation. Even the former Secretary of State enjoys McKinnon's impression of her. Clinton co-starred with McKinnon in a "Saturday Night Live" skit in 2015.
Jeff Sessions — McKinnon is hilarious as Attorney General Jeff Sessions, but President Donald Trump isn't thrilled about her impression. A senior White House official told the Washington Post that Trump found the impersonation "insulting." That makes sense considering McKinnon has likened Sessions to both Forrest Gump and the Elf on the Shelf in the sketches.
Angela Merkel — McKinnon put on a new accent for her role as the German Prime Minister.
Kellyanne Conway — McKinnon's skits as Trump's counselor are always top notch.
Elizabeth Warren — The actress doesn't play Massachusetts senator Elizabeth Warren often, but it's always a good night when she does.
Theresa May — For the role of the British Prime Minister, McKinnon was sure to perfect her accent and her posture.
Betsy DeVos — McKinnon had a hilarious take on the secretary of education.
Ruth Bader Ginsberg — Supreme Court justice Ruth Bader Ginsberg is one of McKinnon's favorite characters to play. "I really love RBG," she told Bustle in December. "It's the juxtaposition between this small, aged person, with such a big mouth and such a loud voice and so much to say. That inherent juxtaposition of her size and her might is the essence of a comedic character."
See McKinnon's impersonations when "Saturday Night Live" airs Saturdays at 11:30 p.m. EST on NBC.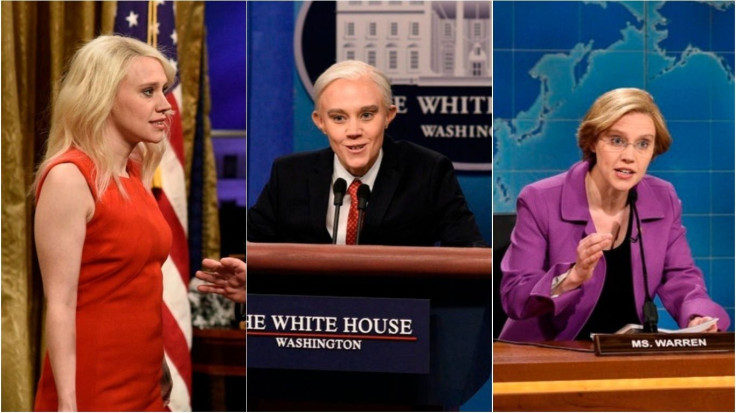 © Copyright IBTimes 2023. All rights reserved.