Watch Will Ferrell's Best 'SNL' Skits From Last Night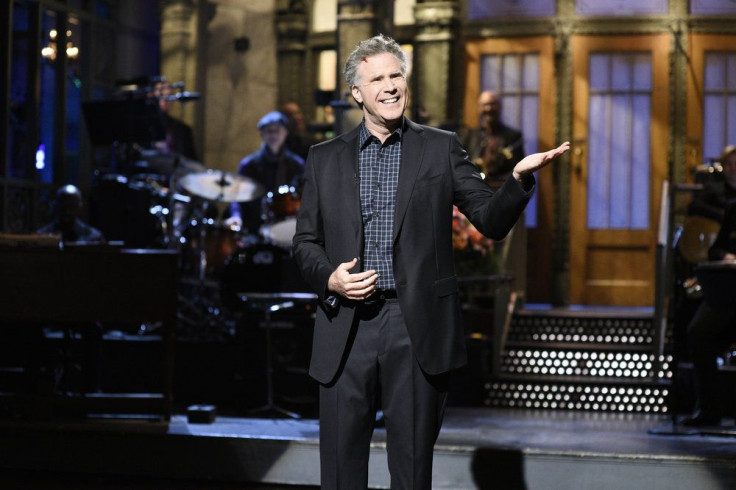 Will Ferrell returned to "Saturday Night Live" for his fourth time as host on Jan. 27, and while he only brought back one of his beloved characters, the actor still made fans laugh in these sketches. Watch Ferrell's funniest "SNL" skits from last night below:
George Bush Cold Open — Ferrell reprised his George W. Bush impression in the cold open sketch. He tells viewers that he knows many people are saying he was better than President Donald Trump, and he reminds them that he didn't do much good. Once Condoleezza Rice shows up, they sing about the good old days.
Dinner Discussion — In this "SNL" skit, Ferrell, Beck Bennett, Kate McKinnon, Aidy Bryant, Kenan Thompson and Heidi Gardner are having a nice dinner — until someone brings up the sexual misconduct allegations against Aziz Ansari. It shows just how uncomfortable and controversial this discussion can be.
Fighter Pilot — Ferrell is a pilot in this one, and they all have to introduce themselves with their call signals. Ferrell's call signal is "Clown Penis." "When an enemy sees me on his tail, I want him to feel the same way that you'd feel if a clown showed you his penis," he explains. However, Clown Penis might not be the best pilot.
Next: For Men — Ferrell, Kyle Mooney and Alex Moffat are all men who need extra strong deodorant in this "SNL" sketch, but this isn't normal perspiration. It's for when they're accused of sexual harassment. "As an actor, I need an antiperspirant that's going to keep working with me because no one else will," Moffat says.
Reality Stars — In this "SNL" skit, Ferrell and Cecily Strong play a couple of reality stars who are visiting hometown friends. However, they haven't exactly stayed grounded. They arrive with their own weight-loss wine, and they have new face lifts. "We got the most expensive procedure from the cheapest doctor we could find," Ferrell's character explains.
When their camera crew arrives, Ferrell says they want to show a "sweet back home moment, showing people our roots." When the producer says "action," their friends find out how real reality TV is.
"Saturday Night Live" airs Saturdays at 11:30 p.m. EST on NBC.
© Copyright IBTimes 2023. All rights reserved.