What Are Slurpee Waves? Winter Storm Grayson Brings Phenomenon To Beach During Bomb Cyclone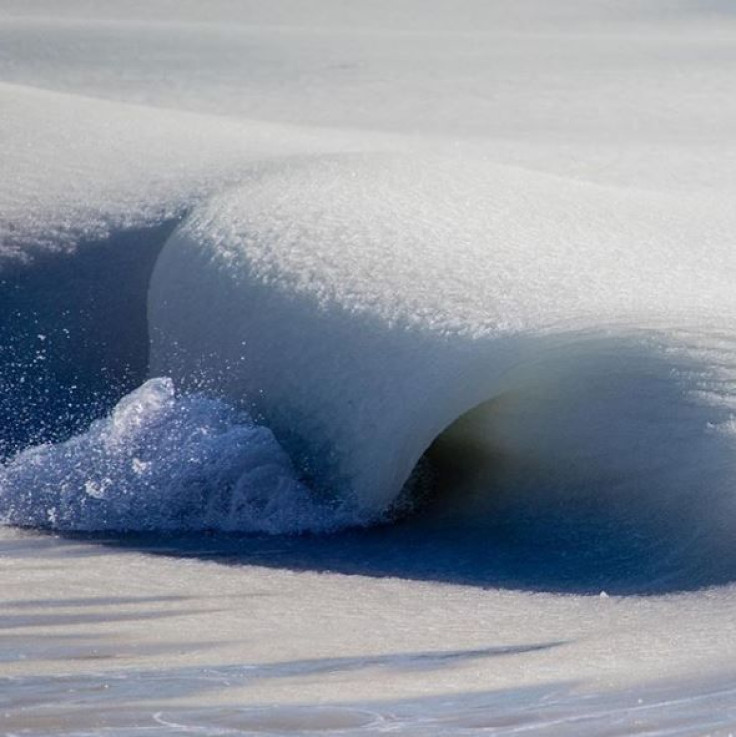 The snowstorm battering the East Coast has been getting a lot of attention for its scientific description as a "bomb cyclone" but it is now also linked to another wild term: slurpee waves.
Those waves are exactly what they sound like — slushy crests of ocean water. When the churning ocean slurpees roll to the shore, they crash in slow-motion.
Photographer Jonathan Nimerfroh, who is from Nantucket, captured the phenomenon during the Jan. 3-4 snowstorm, dubbed Winter Storm Grayson. He was at the Massachusetts island's Nobadeer Beach, a big surfing spot, as the ice-water ebbed and flowed.
"Slurpee waves are back," he wrote on Instagram (@jdnphotography).
He also captured a surfer hitting the slushy water.
"I drove right up there and I was like, 'Oh my God, the waves are frozen and these guys are out surfing,'" Nimerfroh told The Boston Globe.
That publication reported that the photographer had previously witnessed the phenomenon during a snowy and particularly cold February day in 2015.
The Jan. 3 waves "would break all the way to the beach," he told the Globe. "I was on the shoreline taking photos and they were washing up against my boots — I was trying to not get my boots wet."
Unlike the phrase "slurpee waves," bomb cyclone is not as self-explanatory. It comes from a mashup of the longer scientific term "bombogenesis," which describes how quickly it intensified over a 24-hour period, and a reference to its potentially hurricane-force winds.
Winter Storm Grayson dusted southeastern states with snow and blew more and more snow down as it traveled up the coast. The Northeast was expected to get hit the hardest by the blizzard.
© Copyright IBTimes 2023. All rights reserved.
FOLLOW MORE IBT NEWS ON THE BELOW CHANNELS