What Is BF.7? New COVID Subvariant Spreading In US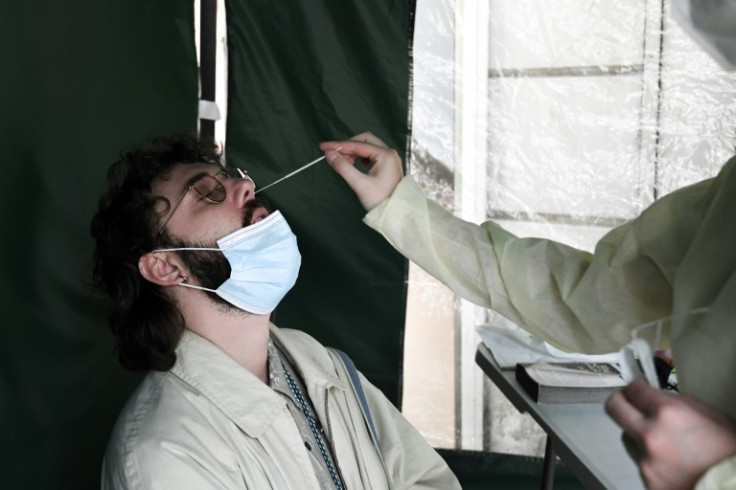 The Centers for Disease Control and Prevention is currently monitoring another COVID variant as the U.S. heads into what some experts predict will be another wave of the virus this fall.
While the BF.7 subvariant only comprises 1.7% of new COVID cases, it has found its way on the CDC's watch list, edging out the BA.2.75 subvariant and nearing the number of cases of the BA.4 subvariant of Omicron, which sits at 1.8%.
The majority of COVID cases in the country still are made up of the Omicron BA.5 subvariant at 84.8% and BA.4.6 at 10.3%, according to the CDC.
The BF.7 subvariant, which is also known as BA.5.2.1.7, is a sublineage of the BA.5 strain of the virus and has grown exponentially in other regions of the world.
As many as 25% of the BF.7 cases detected worldwide have been in Belgium, with Denmark, Germany, and France seeing 10% of COVID cases made up of the subvariant, according to COVID data site, cov-lineages.org, as reported by Fortune.
Dr. Stuart Ray, vice chair of medicine for data integrity and analytics at Johns Hopkins Department of Medicine, told Fortune that its "reasonable to think that BF.7 is gaining a foothold."
Ray explained to the news outlet that BF.7 has the potential to be more transmissible than its parent variant BA.5 because children of variants "don't grow relative to their parent unless they have an advantage."
However, not a lot is known currently about the BF.7 subvariant such as its severity and response to the latest Omicron vaccines.
Ray also told Fortune that the BF.7 may not be the only subvariant seen still this year as he said that he wouldn't be surprised if a new variant emerges this fall.
"It's been a while since we went from Alpha to Beta to Gamma to Delta, then to Omicron," he continued. "We may be complacent. This may be feeding into the notion that this is behind us."
© Copyright IBTimes 2023. All rights reserved.
FOLLOW MORE IBT NEWS ON THE BELOW CHANNELS