What Is DisruptJ20? Protesters Take Over Washington To Stop Trump's Inauguration [VIDEO]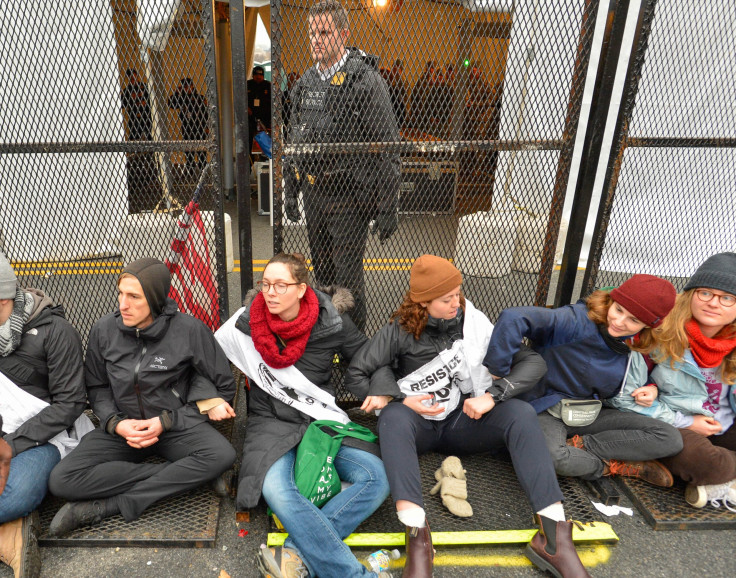 As the hours tick away before President-elect Donald Trump official takes over the White House, protesters have taken to Washington, D.C.'s streets Friday morning in an attempt to hinder Inauguration Day.
One such group called itself "DisruptJ20," which stands for disrupting the inauguration festivities for the Republican. On its official website, it asked for all people "of good conscience" to protest the ceremonies.
"We call on all people of good conscience to join in disrupting the ceremonies. If Trump is to be inaugurated at all, let it happen behind closed doors, showing the true face of the security state Trump will preside over. It must be made clear to the whole world that the vast majority of people in the United States do not support his presidency or consent to his rule," the group's "Call To Action" on its official site reads. "Trump stands for tyranny, greed, and misogyny. He is the champion of neo-nazis and white Nationalists, of the police who kill the Black, Brown and poor on a daily basis, of racist border agents and sadistic prison guards, of the FBI and NSA who tap your phone and read your email."
The group was formed by the D.C. Counter-Inaugural Committee earlier this month, and one organizer explained International Business Times why it doesn't want a "peaceful transition" of power.
"We are voicing our alarm," organizer Lacy MacAuley said. "When we say 'no peaceful transition,' we mean we are going to be using every bit of air in our lungs and all of our strength to call this administration what it is, which is one that is not likely to serve the people."
In the build up to the inauguration, many groups, including Black Lives Matter and supporters of the LGBTQ community, promised to protest Trump. Some of the incoming president's supporters have clashed with them, according to reports. The video below showed a member of the "Bikers For Trump" rally clashing with a DisruptJ20 protestor.
IBT also found protesters against the Dakota Access Pipeline have combined efforts with DisruptJ20 to form a blockade.
© Copyright IBTimes 2023. All rights reserved.