What Does The Final Five Mean? A Complete Explainer Of The USA Women's Gymnastics Team's Nickname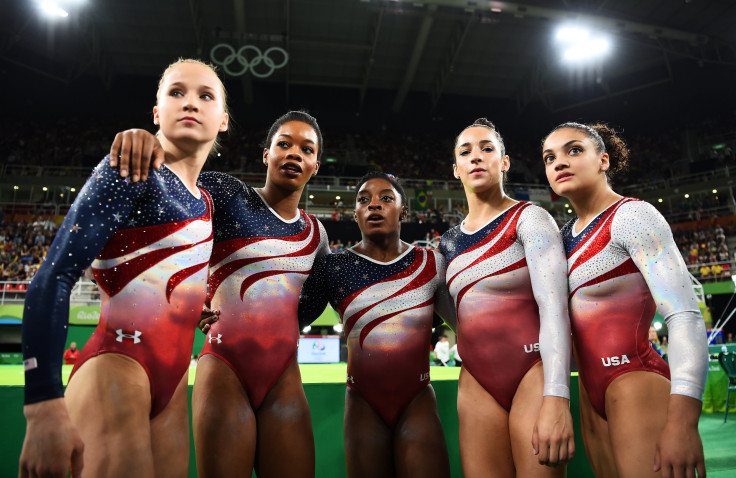 The 2016 Olympic Games in Rio De Janerio, Brazil, are off to an exceptional start. Team USA currently boasts 27 medals overall, but it's the women's gymnastics team that has everyone buzzing.
This year's team is comprised of five exceptional athletes — Captain Aly Raisman, Laurie Hernandez, Simone Biles, Gabby Douglas, and Madison Kocian. With victory a near certainty for the all-star squad, many have wondered what history books would call the five female gymnasts who dominated the Rio Olympics. Fans suggested names of their own, referring to Raisman and her teammates as the Slay Squad and the Fierce Five, but the decision lay in the capable hands of the gymnasts themselves. On Tuesday, after flipping their way to Olympic gold, the five young athletes took the floor to celebrate and announce their official nickname — the Final Five. The title confused some, but it's meaning runs deep.
Some believed the name was a nod to the fact that after this year, Olympic gymnastic teams will be allowed only four members each. NBC noted that in 2020, when the summer games head to Tokyo, Japan, teams will only be allowed to bring along two alternates. The final in Final Five, however, refers to coach Martha Karolyi, who will be retiring after churning out exceptional female athletes for more than a decade. Karolyi, who originally hails from Romania, will be replaced as national team coordinator after the 2016 Olympics come to a close on Aug. 21. Her last team decided to honor her legacy, as well as the chances she gave each of them, with their new nickname.
"She's pushed us harder than anyone else, harder than our coaches," Biles said. "Every day in practice, even if you're close to perfection, she still tells you that you can be better. She does it because she loves us. She just wants the best for us."
Raisman, Hernandez and Biles took on both the balance beam and floor exercises on Tuesday during the Olympic Games. The trio debuted clean and seemingly effortless routines, earning them, as well as Douglas and Kocian, shiny new gold medals. The U.S. team was up against Russia, China and Japan in both competitions. They were able to quickly knock Russia and their star gymnast, Aliya Mustafina, off the podium as China and Japan stuck their landing in second and third place, respectively.
While the entire USA women's gymnastics team is something to talk about, Hernandez and Biles have been the subject of much of the buzz. Both are first-time Olympians, but have earned every bit of press. Biles, for example, is already being hailed as one of the most talented female gymnasts in history. She consistently delivers near-flawless routines and can proudly say that she set a world record for American women by winning 14 world championship titles — did we mention that she's only 19 years old? Hernandez is the first Puerto Rican and third Latina to be a part of the U.S. gymnastics team. She is the youngest member of the team and has won all three of the last world championships.
The U.S. women's gymnastics team will appear once more on Thursday, Aug. 11, and Sunday, Aug. 14. For a full list of gymnastics events for both the men's and women's teams click HERE.
© Copyright IBTimes 2023. All rights reserved.