What Does 'Schlonged' Mean? Donald Trump's Hillary Clinton Insult Is Yiddish Word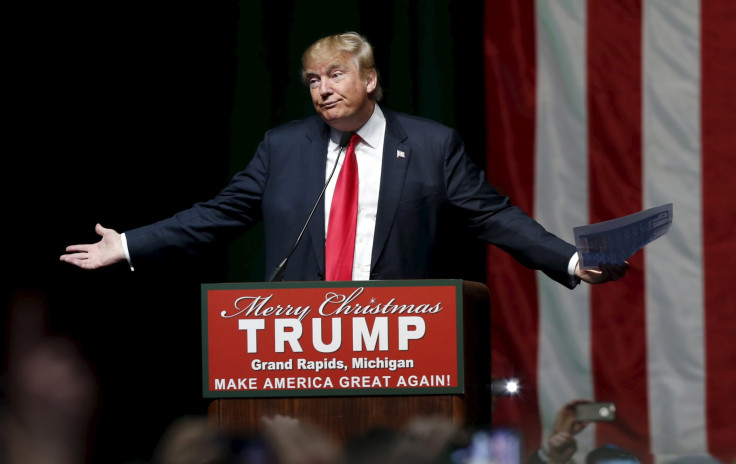 The furor over Donald Trump's controversial remarks about Democratic presidential candidate Hillary Clinton continued into a third day Wednesday, with critics lambasting the New York-based mogul for his colorful — and maybe mistaken — use of a single Yiddish word. The ballsy, enigmatic and cocky Republican presidential front-runner has come under scrutiny for a number of incendiary statements since starting his campaign in June.
Referring to Clinton's loss to now-President Barack Obama in the 2008 Democratic primary race, Trump told supporters at a Monday-night rally in Grand Rapids, Michigan, that "she was favored to win and she got schlonged, she lost."
In the aftermath of Trump using a variation of the word schlong, a Yiddish slang word for penis, Clinton's campaign said it would not comment officially. However, a campaign spokesperson later tweeted, "Everyone understands the humiliation this degrading language inflicts on all women."
Trump swiftly responded by claiming that what he actually meant was that Clinton had been beaten badly by Obama in 2008. However, some believe that schlonged has a similar etymological status to that of words such as "screwed," which has changed meaning over the years from having a sexual connotation to meaning cheated or conned, according to a Talking Points Memo report Wednesday.

"These phrases often get used with little conscious sense of their original meaning," noted the report, in which the author cited a friend's Facebook status that said he grew up in Long Island where the term "schlonged" was commonly used as a verb that meant "thoroughly beaten."
Later on, Trump spokeswoman Katrina Pierson tried to clarify her boss' comment. "I think he was meaning, like, 'schlonged to the ground,' 'schlonged around,'" Pierson said on CNN. "Are we really talking about the definition of a word?"
When panelists questioned her again, Pierson asked for clarification. "What does schlonged mean, then?" Pierson said. "Why don't you tell me what schlonged means?"
© Copyright IBTimes 2023. All rights reserved.