What Is Donald Trump Jr's Net Worth? Trump's Oldest Son Worth Over $150 Million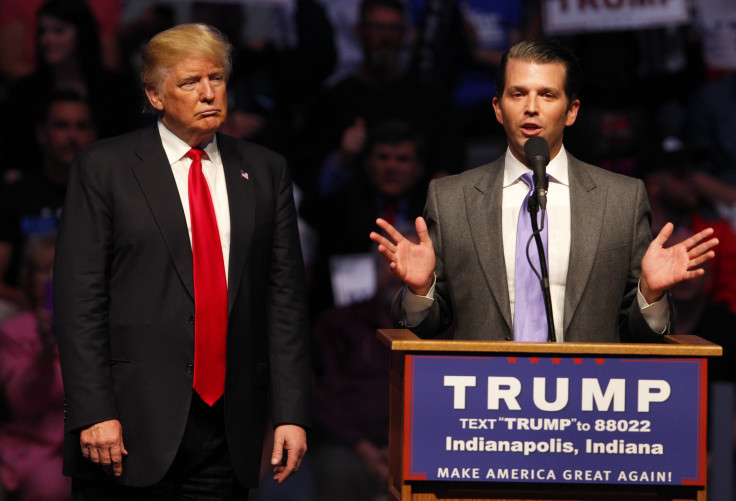 Donald Trump Jr., who has been at the center of controversy in recent days, has an estimated net worth of over $150 million due mostly to his position in the Trump Organization. He was named executive vice-president in 2015 before taking over as a trustee with his brother Eric Trump prior to his father's swearing in as president in January.
In recent months, the eldest son of the Trump family has taken the mantle as among his father's most combative attack dogs, defending the administration's policies and decisions on Twitter, and spreading unsubstantiated rumors about political opponents.
He has faced increased scrutiny and pressure this week for admitting he met with Russian lawyer Natalia Veselnitskaya days after his father clinched the Republican nomination.
READ: Why Did Donald Trump Jr. Meet With A Russian Lawyer?
Trump Jr. has managed construction projects including Trump Palace and Trump Park Avenue in New York City, Trump International Hotel and Tower in Chicago, Trump International Hotel in Las Vegas, and Trump International Golf Links in Aberdeen, Scotland.
His functions within the organization include arranging deal evaluations, analysis, pre-development, planning of construction, branding, marketing, operations, sales, and leasing. In addition to being an executive to his father's organization, he has also made paid speeches in international settings, including in Dubai in April.
These projects and speeches have proven to be a lucrative source of wealth for the president's son. However, the increase in wealth has also come parallel to questions about conflicts of interest considering Trump Jr.'s involvement in the campaign and his father's administration.
The revelations about his meeting with Veselnitskaya in the New York Times article Saturday were not previously disclosed and come amid an investigation into the Trump campaign's potential collusion with the Russian government to interfere with the 2016 presidential election.
READ: Donald Trump Jr. Russia Meeting Violated Campaign Finance Laws, Government Watchdog Alleges
A New York Times article Monday stated that an email sent to Trump Jr. last year had "compromising" information about Hillary Clinton as "part of a Russian government effort" to help the Trump campaign.
The New York Times also reported Trump Jr. was contacted by a senior Russian government official and was offering to provide the Trump campaign with dirt on Clinton.
The documents "would incriminate Hillary and her dealings with Russia and would be very useful to your father," read the email, written by a trusted intermediary, who added, "This is obviously very high level and sensitive information but is part of Russia and its government's support for Mr. Trump."
Within minutes, Trump Jr. replied: "If it's what you say I love it especially later in the summer."
Trump Jr. has given shifting statements about the meeting since the Saturday report. On Tuesday, he said that nothing out of the ordinary happened and that Veselnitskaya didn't provide any information. He also tweeted an email chain in order to be transparent.
"To put this in context, this occurred before the current Russian fever was in vogue," he wrote. "As Rob Goldstone said just today in the press, the entire meeting was 'the most inane nonsense I ever heard. And I was actually agitated by it.'"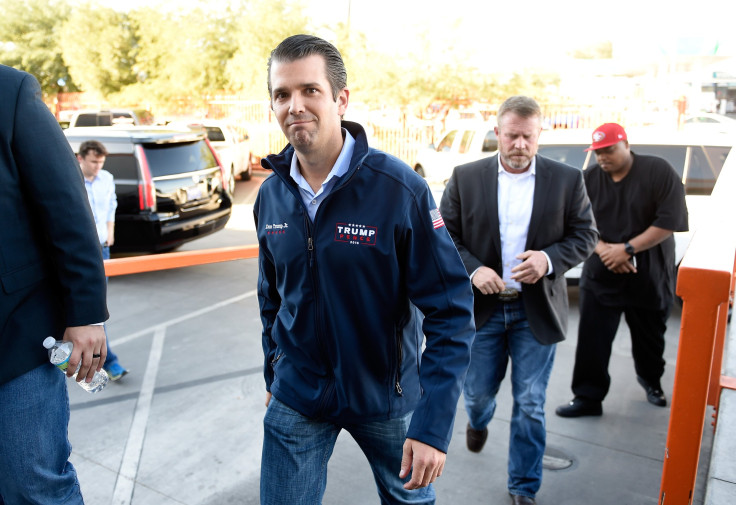 © Copyright IBTimes 2023. All rights reserved.