What To Drink For St. Patrick's Day: Best Alcohols For The Holiday And How To Consume Them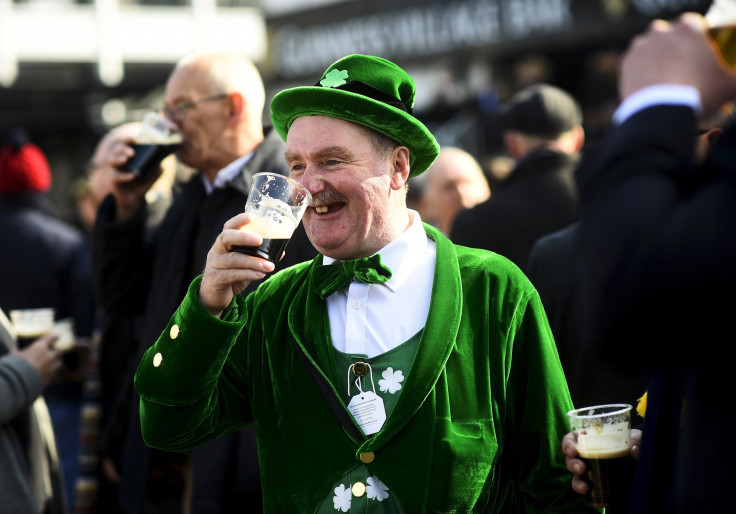 St. Patrick's Day is a holiday most people use as an opportunity to throw back a cold one or share a pint with friends. Revelers typically opt for traditional Irish beers and liquors, and local liquor stores and bars will likely be prepared for the demand.
More than half percent of Americans plan on celebrating St. Patrick's Day on Friday, according to WalletHub's St. Patrick's Day study, and they'll spend a little over $5 billion on the holiday.
Advertising and technology company Captify, which looked at internet search traffic for the most desirable booze brands leading up to Friday's celebration, found that Baileys led the way with a search increase of 126 percent, followed by Jameson (up 28 percent) and Guinness (up 25 percent).
In honor of St. Patrick's Day, here are drink recipes to whip up yourself using the holiday's most popular alcohol brands.
Baileys Irish Cream
The Baileys brand beat you to the punch — its website features tons of drink of boozy drink recipes to create using the Irish liqueur. Trying to stay awake for evening festivities? Make a quick-and-easy Baileys Iced Coffee. Brew some coffee (or break out the cold brew) and mix in some Baileys Original Irish Cream Liqueur. For something a little stronger, switch out the coffee for espresso shots and add Baileys Espresso Crème Liqueur. Or go all green with a Midnight Mint, which calls for Crème de menthe, Baileys Original Irish Cream and Smirnoff vodka — and a mint leaf, of course.
Jameson Whiskey
You can try your hand at an Irish coffee, but for something a little different, Food & Wine published a recipe for a Basil & Whiskey. The recipe calls for Jameson, obviously, along with fresh basil leaves, lemon juice and honey syrup.
For people who want to leave the Irish Car Bombs behind and prefer a slightly more refined beverage, Serious Eats has a recipe for the Emerald, which only requires a couple ounces of an Irish whiskey, sweet vermouth and orange bitters.
Guinness Irish Stout
Of course, for drinkers who just wish to celebrate the holiday by imbibing everything, the Irish Car Bomb is a classic go-to: Just drop some Baileys and Jameson into a glass of Guinness. Or, believe it or not, there is a recipe that calls for both champagne and the Irish stout: a Black Velvet. Fill half of a champagne flute with Guinness, then top it off with some bubbly.
Otherwise, enjoying an actual glass of pure Guinness is always a good call, as well.
© Copyright IBTimes 2023. All rights reserved.