What To Expect From COVID-19 This Summer: Experts Give Assessments
COVID-19 infections are on the rise again as the more infectious Omicron subvariants spread across the U.S., causing concern for what may happen during the upcoming summer season.
While most experts don't expect a full-blown surge during the months of July and August due to the warmer weather and people spending more time outdoors, they do warn that the unpredictable nature of COVID-19 makes it hard to predict exactly what could happen in the next few months.
Dr. Bruce Hirsch, an infectious disease specialist at Northwell Health, told CNBC, "I have no idea. But I think things are going to get worse, and then they're going to better again."
The U.S. has been battling a seven-day average of 105,713 new COVID cases a day as of Monday, according to the Centers for Disease Control and Prevention (CDC). Hospitalizations are at just over 3,300, and deaths are at a daily average of 284.
At least four variants are circulating in the U.S. currently, with BA.2 and BA.2.12.1 comprising the most cases of COVID-19.
But as Americans hit the road during the warmer summer months, it could there is no guarantee that COVID cases won't spike further, especially as vaccine immunity wanes and mask requirements have been rolled back in much of the country, Dr. Timothy Brewer, a professor of medicine in the division of infectious diseases at the David Geffen School of Medicine at UCLA, told CNBC.
Brewer pointed to lagging vaccine rates lately, saying that "[O]nly about 50% of eligible adults have received a single booster, and less than 20% have received a second booster. Sixty-six percent are fully vaccinated."
However, because of vaccinations and COVID-infected immunity, summer surges may be reduced this year compared to other years, Dr. Dan Barouch, director of the Center for Virology and Vaccine Research at Boston-based Beth Israel Deaconess Medical Center, suggested.
But he did tell CNBC, "The virus has proven very unpredictable."
The CDC has recommended wearing a mask in indoor public places for those people that live in areas that have high COVID infections and hospitalization rates. The agency has also encouraged Americans to get vaccinated if they have not done so yet or get their booster shot if they have been fully vaccinated.
The nation's leading disease expert, Dr. Anthony Fauci, has said the next surge will likely come later this year. He told PBS in an interview earlier this month, "There is a threat and a likelihood that we'll see a surge as we get into the fall and the winter. So we've got to be prepared."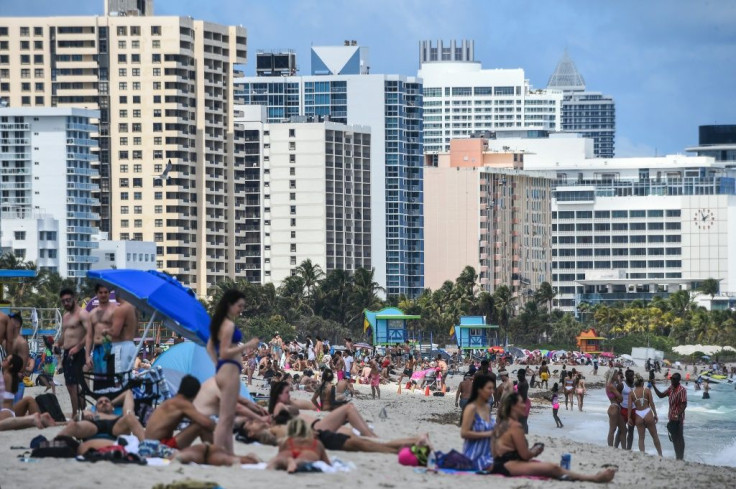 © Copyright IBTimes 2023. All rights reserved.
FOLLOW MORE IBT NEWS ON THE BELOW CHANNELS