What Happens To Pardoned White House Thanksgiving Turkeys?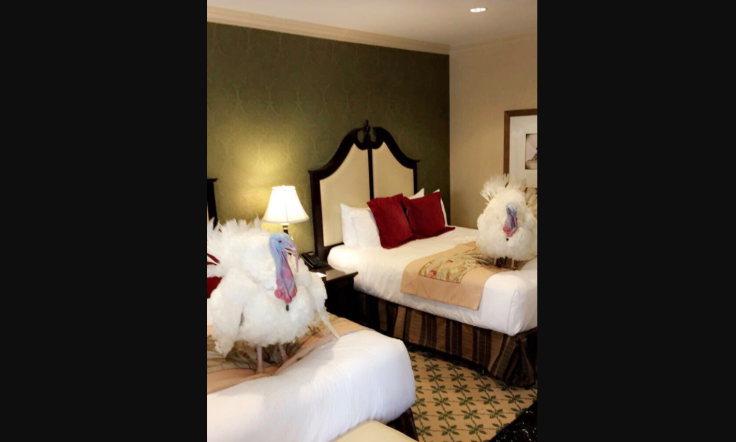 President Donald Trump will hold the 70th annual National Thanksgiving Turkey ceremony at the White House Tuesday. The event will take place in the White House's Rose Garden where Trump will pardon two turkeys, sparing them from ending up on a Thanksgiving table.
After the ceremony, the turkeys are brought to Virginia Tech, according to a statement from the White House, where they will join last year's turkeys in a "Gobblers Rest" exhibit. At the university, the turkeys are cared for by students and veterinarians. The public can visit the turkeys at the exhibit which showcases the school's veterinary and animal science programs.
The turkeys arrived in Washington D.C. Sunday and will be staying at the Willard InterContinental Hotel, according to the White House's Instagram. The turkeys hail from western Minnesota and were raised by "National Turkey Federation Chairman Carl Wittenburg and his wife Sharlene, along with five young women from the Douglas County 4-H chapter," according to the press release.
For the last few years, the turkeys that headed to the White House are treated to a night or two at a nearby hotel. The Willard, a five-star hotel, played host to the turkeys several times during the presidency of Barack Obama. Rooms at the Willard range anywhere from $190 to $800, but the tab is usually picked up by the National Turkey Federation, according to the National Journal.
Two turkeys from Jaindl's Turkey Farm of Orefield, Pennsylvania will also be presented to the first family, those will be donated to Washington D.C. charity Martha's Table.
The ceremony of presenting turkeys to the president first started in 1947 during the presidency of Harry Truman, but the beginning of the pardoning tradition is disputed, according to the White House Historical Association. The tradition was at first attributed to Truman, but the Truman Library & Museum disputes that. The Washington Post used the word "pardon" in a 1963 article about the ceremony helmed by John F. Kennedy. Patricia Nixon, wife of Richard Nixon, sent the turkeys off to a children's farm during the last few years go his presidency. The practice of sparing the turkeys and sending them to a farm was solidified under Ronald Reagan.
Pardoning the turkeys, however, became a formal tradition under George H.W. Bush.
© Copyright IBTimes 2023. All rights reserved.