What Kate Middleton Pregnancy Rumors? Duchess Makes Appearance With Prince George Amid Baby Reports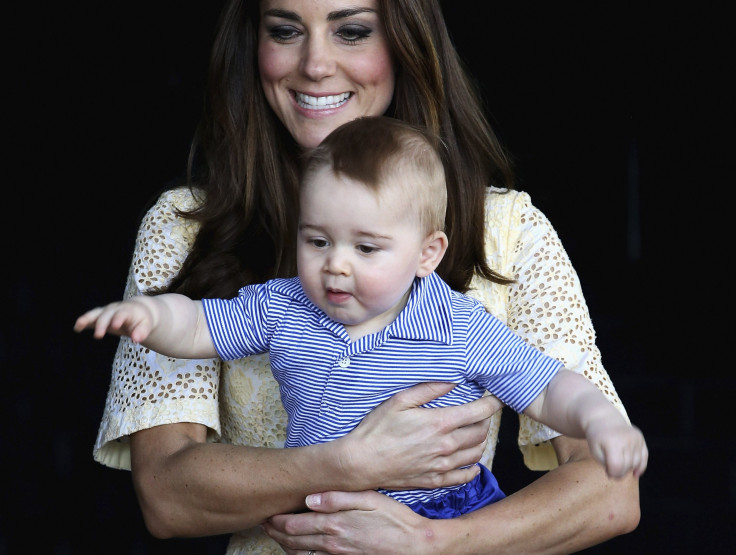 Pregnancy rumors? What pregnancy rumors? If Kate Middleton is with child, she sure isn't afraid of accidentally showing off a potential baby bump.
Amid multiple tabloid reports that Britain's Duchess of Cambridge, Kate Middleton, 32, is expecting her second (and in some cases, third) child with Prince William, 31, the royal family made a public appearance on Sunday. Nearly two months after completing their 19-day Australia/New Zealand tour, Middleton and the couple's 10-month-old son, Prince George, attended the Jerudong Trophy charity polo match at Cirencester Park Polo Club in England.
According to a report from ABC News, Prince George, who recently started walking and is a little more than one month away from celebrating his first birthday on July 22, reportedly "stole the show" despite dad William's performance on the field. "He was intrigued with a polo mallet," the report said. "George kept the crowd absorbed, kicking a quilted soccer ball as he was wiggling around the field where his father was on his horse. With the aid of his mother, Prince George proved he's nearly walking on his own."
While the young royal may have stolen the spotlight at the sporting event, eyewitnesses claim the family had some quality bonding time during a break in the game. ABC News reported that Prince William was seen lovingly giving his son, third in line to the English throne, a sip from his water bottle before continuing the game.
Middleton's appearance comes on the heels of multiple reports that she is pregnant with a second child. Life & Style was the most recent to report that the Duchess was expecting; it published claims in its May 28 issue that she's allegedly been suffering from Hyperemesis Gravidarum, the same acute morning sickness that left her hospitalized during her pregnancy with Prince George in 2012. "She is so tired at the end of the day, she collapses on the bed," a "royal source" told the tabloid.
Prior to Life & Style's report, OK! reported that Middleton was expecting not one, but two babies with Prince William. According to the magazine, the Duchess was pregnant with twin girls, an alleged "dream come true" for Prince William. "William's beside himself with excitement," said a source, who added that the Prince believes "it's time for more girls in the family line."
© Copyright IBTimes 2023. All rights reserved.