What Is Miriam Colon's Cause Of Death? US Latina Actress Dies At 80 In New York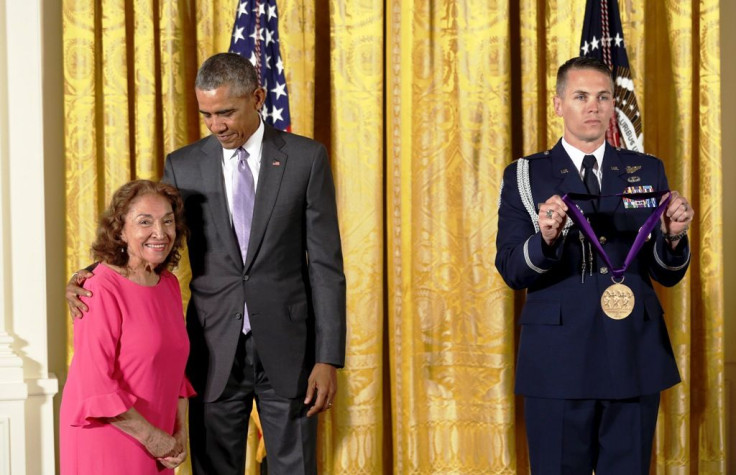 Iconic U.S. Latina movie and theater actress Miriam Colon died early Friday in a New York hospital at the age of 80, according to reports. Colon, who was active in the acting industry as recently as 2015, was known for establishing the Puerto Rican Traveling Theater in New York, which helped young Latino actors and writers.
Fred Valle, Colon's husband, told the Associated Press (AP), that she died of complications from a pulmonary infection. In her career spanning several decades, Colon appeared in over 90 films and more than 250 television episodes of shows such as "Bronco," ''Bonanza" and "Law & Order." She also acted with popular movie stars such as Marlon Brando and Al Pacino.
In 1967, she founded the Puerto Rican Traveling Theater after starring alongside Raul Julia in the English-language adaptation of René Marqués' The Ox Cart (La Carreta), which told the story about Puerto Rican migration.
The "One-Eyed Jacks" actress was born in Ponce, Puerto Rico, and got into theater during her school years. Prior to her graduation from high school, she audited classes in the drama department at the University of Puerto Rico.
She came to Los Angeles in the 1950s to study at the Actors Studio. She started with small roles in shows like "Playhouse 90," "Alfred Hitchcock Presents," "The Dick Van Dyke Show." Her role as the New Mexico Hispanic healer Ultima in the 2013 movie "Bless Me, Ultima" garnered her wide acclaim.
"That was her most beautiful role in my opinion," Valle told the AP about his wife's acting in the movie. "I saw the movie three times. She was la gran madre [the great madre] in the film."
In 2015, President Barack Obama presented Colon with the National Medal of Art to honor her acting and theater career.
"We were married more than 40 years," Valle said. "I was so proud of everything she accomplished."
© Copyright IBTimes 2023. All rights reserved.