What is Nochebuena? All About The Hispanic Christmas Eve Tradition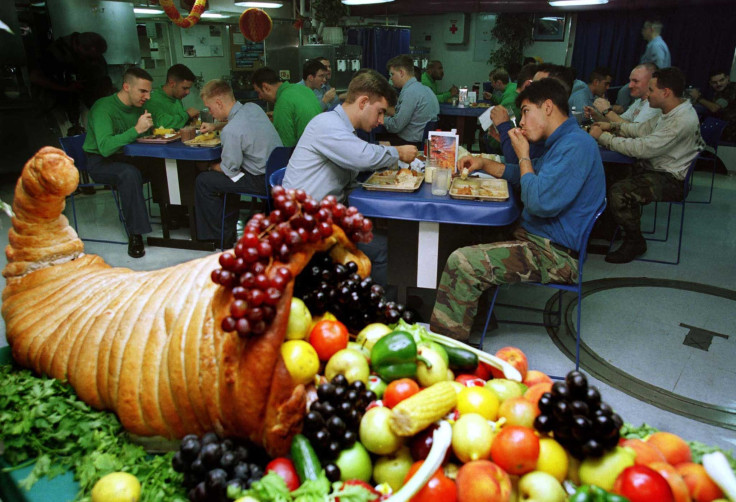 Holiday season is here, and Christians from Puerto Rico to Peru will be ringing in Nochebuena, the most important Christmas celebrations for members of Spanish-influenced cultures. Alternatively known as Noche Buena, La Cena de Nochebuena or Navidad, Nochebuena means "Good Night" in Spanish and refers to Christmas Eve, the biggest Christmas fete for most Latinos.
The largest Christmastime feast in many Hispanic households, Nochebuena dinner often features roast pork, known as lechón in Spanish, as the centerpiece of the meal. Food is perhaps the most important part of Noche Buena, and alcohol is typically consumed by all over the course of the celebration.
"In Mexico, for example, dinner can include homemade tamales, atole, bacalao (cod) a la Vizcaina or romeritos en revoltijo (a dish made with Mexican greens) accompanied by buñuelos (small donuts) for dessert and ponche (punch) to toast," according to the Denver Post. "In other Latin American countries, especially those in the Caribbean, the main dish is roast pork with rice and beans, pasteles (tamales) and different salads. Plus, it wouldn't be Christmas without Coquito, an alcoholic beverage made with coconut milk, condensed milk and white rum."
Some families have adopted a more American take on the family meal in recent years, serving "Pavo Trufado de Navidad," or Christmas turkey with truffles.
Many revelers put out nativity scenes to celebrate the occasion and remind family members about the religious underpinnings of the event, which often lasts late into the night as people catch up with relatives and friends.
In Spain, a traditional Nochebuena dinner will see people gathering to feast on seafood, soup and other dishes with their families after attending the annual Christmas mass.
Christians with Cuban and Puerto Rican heritage traditionally play dominos on Nochebuena, and cook entire pigs in a Caja China box atop burning coals.
Latin American families sometimes ring in Noche Buena after late-night Misa de Gallo mass, sharing a range of dishes. Misa de Gallo commemorates Jesus Christ's birth and translates to Mass of Roosters, arising from an old tale about a rooster that crowed to herald the occasion.
In the Philippines, Noche Buena is a huge occasion for most Christians, who attend Simbang Gabi, Tagalog for "night mass," at the conclusion of a succession of pre-dawn masses leading up to Dec. 24.
© Copyright IBTimes 2023. All rights reserved.