What Is 'Trump Training'? NPR Offers Journalists War Guide For Avoiding Violence At Candidate's Rallies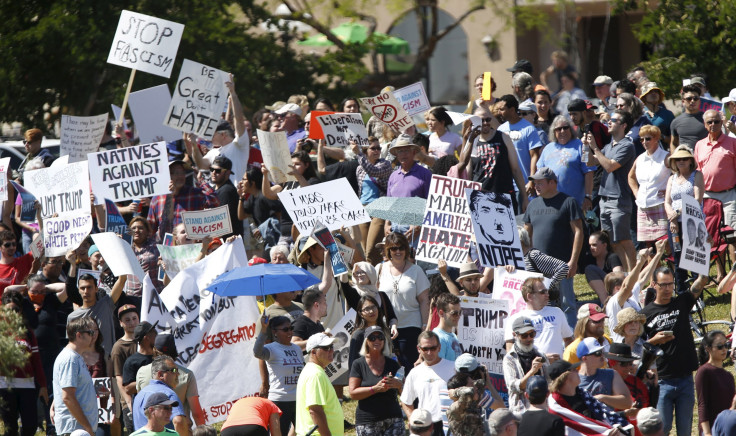 News organizations aren't pulling back from covering Republican presidential candidate Donald Trump's raucous and sometimes violent campaign rallies. But at least one public radio outlet wants it's reporters to remain safe amid the minefield of enthusiastic supporters and anti-Trump protesters.
National Public Radio sent its team of political reporters to a 90-minute hostile-environment awareness training session, the Washington Post reported Wednesday. This training, unusual for journalists covering U.S. politics, typically lasts a few days and prepares reporters for covering war zones or places in the world where terrorist groups are known to operate.
News organizations, government agencies and nongovernmental organizations have traditionally offered this type of training to help employees respond to hazards such as riots, bombing attacks and kidnappings, the Post said. But NPR's scaled-down sessions might be called "Trump Training."
NPR declined to give details about its reporters' training. But Michael Oreskes, senior vice president of news at the public radio company, confirmed in an NPR interview its reporters had received guidance on "dangerous or possibly hostile environments."
Isabel Lara, an NPR spokeswoman, said the sessions are designed to deal "with the stress of covering a very demanding story for a long period of time," the Post reported. "We make the training widely available to newsroom staff whether they work internationally or domestically," said Lara, who declined to say how many reporters had received the training. No other news organizations appear to be offering this kind of training.
While they are far from being classified war zones, Trump's campaign rallies are rowdy events in which violence has flared. There have been multiple reports of scuffles and punches thrown amongTrump supporters, the candidate's security personnel, anti-Trump protesters and reporters covering his campaign.
Frank Smyth, executive director of Global Journalist Security, told the Post his firm has provided hostile-environment awareness training to news organizations in the wake of an incident last year involving a disgruntled former employee of a TV station. The former employee shot and killed a reporter and her cameraman near Roanoke, Virginia.
© Copyright IBTimes 2022. All rights reserved.
FOLLOW MORE IBT NEWS ON THE BELOW CHANNELS