What Is The USNS Comfort? Navy Hospital Ship Arrives At New York City Harbor During Coronavirus Pandemic
KEY POINTS
The USNS Comfort arrived in New York City's harbor to help ease the strain placed on hospitals during the COVID-19 pandemic
Comfort will primarily treat patients suffering from other ailments or injuries so hospitals can focus on coronavirus patients
The hospital ship has previously been deployed as part of the military's efforts in Iraq and to aid the victims of Hurricanes Katrina and Maria
The USNS Comfort arrived in New York City's harbor Monday to relieve some of the strain placed on city's hospitals that have struggled to keep up with patients during the COVID-19 pandemic.
The hospital ship arrived at Manhattan's Pier 90 around 10:45 a.m. to a crowd of onlookers waiting for the relief ship to arrive. It was the completion of a roughly 36-hour trip after the Comfort left Virginia's Naval Station Norfolk on Saturday.
The New York Police Department shared the news of the ship's arrival, along with a video of it making its way up the Hudson River, on Twitter.
New York Gov. Andrew Cuomo shared his happiness at the Comfort's arrival, sharing a video onboard one of the escort ships.
But what is the USNS Comfort and how will it help ease the strain of New York City hospitals?
Originally, the Comfort was built by the National Steel and Shipbuilding Company in 1976 to serve as an oil tanker for the Trans-Alaska Pipeline System. It would serve as a tanker until 1987 when it was converted into a hospital ship for the U.S. Navy, along with the USNS Mercy.
During its time as a hospital ship, it would be deployed as part of military operations, including the wars in Iraq, and disaster relief after Hurricanes Katrina and Maria. It was also sent to New York City following the 9/11 attacks to treat anyone hurt by the attacks or sick during recovery and rescue efforts at Ground Zero.
The Comfort is equipped with another 1,000 hospital beds, 12 operating rooms, and a medical staff of around 1,200 doctors, nurses, and other medical experts. Other departments on the vessel include a full intensive care unit, radiology unit, a morgue, and a distilling plant to make saltwater drinkable.
However, the Comfort won't be treating victims of the coronavirus pandemic. It will, instead, focus on treating patients with other ailments or injuries so hospitals can have space to treat COVID-19 patients. New York City Mayor Bill de Blasio said 750 of those beds would be put to use "immediately."
"This is like adding another hospital here in New York City," Mayor de Blasio said. "It's such a boost to see the military arrive to help us out."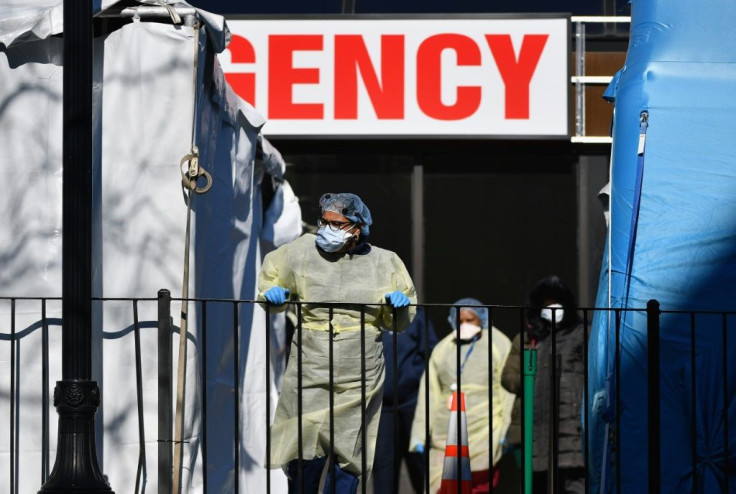 © Copyright IBTimes 2023. All rights reserved.
FOLLOW MORE IBT NEWS ON THE BELOW CHANNELS