What Was Dinesh D'Souza's Crime? Trump Announced Pardon, Hints At More
President Donald Trump on Thursday tweeted saying he intended to grant conservative provocateur Dinesh D'Souza a full pardon. "He was treated very unfairly by our government!" Trump's tweet read.
D'Souza, in 2014, was sentenced in a Manhattan Federal Court to five years of probation for campaign finance fraud.
According to the Federal Election Campaign Act ("Election Act") in order to limit financial influence in electing candidates for federal office, individuals should make public disclosure of the financing of federal election campaigns. The act limits the amount and source of a donation an individual can make toward a federal candidate or the candidate's authorized campaign committee. Noteworthy, in this case, is the Act makes it illegal for an individual to make a contribution in another's name, and this specifically includes reimbursing a third person before or after the said person has made a contribution, so as to encourage that contribution.
According to the Indictment, prior court filings, and statements made in court in 2012, the Act limited contributions to $5,000 per individual to any one candidate. In March 2012, D'Souza contributed $10,000 to Republican candidate Wendy Long's Senate campaign — a federal office. The amount was on behalf of D'Souza and his wife.
Further to this, D'Souza directed other individuals he associates with, namely his assistant and a woman he was romantically involved with, referred to as "Straw Donors," to make contributions to Long's campaign on behalf of themselves and their spouses for an amount totaling $20,000, with the promise that they would be reimbursed by him later.
That day or the very next, D'Souza fulfilled his promise and reimbursed the said "Straw Donors" $10,000 each in cash. On being confronted by Long, D'Souza first misled the candidate and later admitted to what he had done.
In court, during a plea proceeding, the accused admitted he caused the "Straw Donors" to contribute $10,000 each toward Long's campaign, with the understanding they would be reimbursed by him, while also conceding that he was fully aware what he was doing is illegal and the "Election Act" forbids it.
The then-attorney for the Southern District of New York, Preet Bharara, announced Sept. 23, 2014, D'Souza was sentenced to five years of probation, with eight months during the first year to be served in a community confinement center. He was also sentenced to a mandatory eight-hour day of community service every week of his five-year probation, weekly counseling sessions and was ordered to pay a $30,000 fine and $100 as a special assessment.
As to whether it was unfair, notable is that D'Souza did not receive any jail time. District Judge Richard Berman, who sentenced D'Souza, denied the accused's pre-trial motion to dismiss the indictment for selective prosecution, citing "no evidence."
"The defendant's claim of selective prosecution, legally speaking, is 'all hat, no cattle,'" Judge Berman said. He called D'Souza's claim of unfair treatment by the government "nonsense" and said "spin is what that is," according to a press release by the FBI.
On Thursday, Trump told reporters he was considering pardoning Martha Stewart as well as commuting former Illinois Gov. Blagojevich's sentence. According to a CNN report, both starred with Trump on his show "The Apprentice."
A Justice Department spokesman said D'Souza's pardon did not go through the department's Office of Pardon Attorney, as is routine. While not constitutionally required, the Office of Pardon Attorney has assisted the White House with regard to clemency petitions, the CNN report said.
The Office of the Pardon Attorney's services were not used in the pardons of former Maricopa County Sheriff Joe Arpaio and Lewis "Scooter" Libby. Last month, when the president was asked if he would consider pardoning his longtime attorney Michael Cohen, who is now being federally investigated for possible bank fraud, wire fraud and campaign finance violations, Trump responded by saying "stupid question."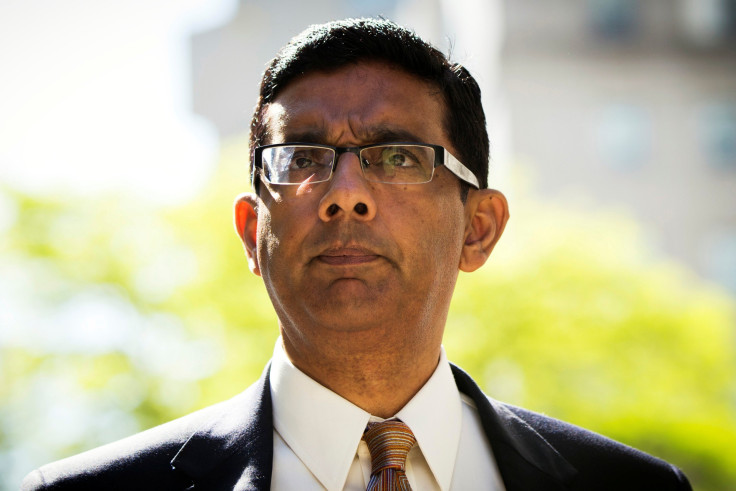 © Copyright IBTimes 2023. All rights reserved.