What Is Waterboarding? McCain Slams Trump's Campaign Promise To Revive Use Of Torture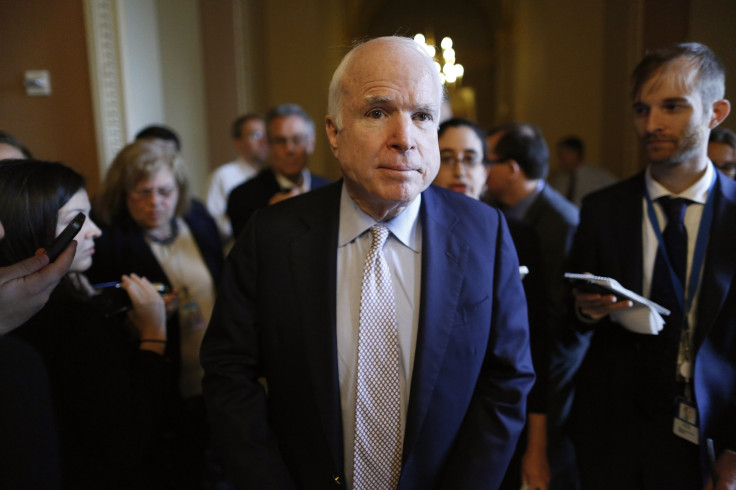 Arizona Sen. John McCain said Saturday that no matter what President-elect Donald Trump says, the United States will not reinstate waterboarding. The 2008 Republican presidential candidate added that the torture method doesn't work and puts the U.S.'s moral superiority in question.
Speaking at the Halifax International Security Forum, McCain reportedly said, "I don't give a damn what the president of the United States wants to do or anybody else wants to do. We will not waterboard. We will not do it."
"What does it say about America if we're going to inflict torture on people," he added.
A leading Republican voice in matters of national security and chairman of the Armed Services Committee, McCain reiterated that torture methods are banned under U.S. law and the Geneva conventions. He was tortured as prisoner of war during the Vietnam War. McCain spent over five years in a North Vietnam prison after his plane was shot down during the war.
Waterboarding involves covering a detainee's face with a cloth and pouring water over the nose and mouth to create a sensation akin to drowning. The CIA is allegedly said to have used this form of torture, which dates back to hundreds of years, to elicit information from suspects after 9/11 under the George W. Bush administration.
On his campaign trail, Trump said he would work toward changing laws that banned the use of torture. He said at a rally in Albuquerque, New Mexico, that he would bring back the old torture method in his fight against the Islamic State militant group also called ISIS.
"These savages are chopping off heads, drowning people. This is medieval times and then we can't do waterboarding? 'It's far too tough,'" Trump said, mocking critics. "We have to be tough and we have to be smart. And we have to be in some cases pretty vicious I have to tell you."
Trump also insulted McCain's military service during the campaign saying, "He's a war hero because he was captured. I like people who weren't captured. Perhaps he's a war hero."
© Copyright IBTimes 2023. All rights reserved.