Donald Trump On John McCain: 'He's A War Hero Because He Got Captured. I Like People Who Weren't Captured'; GOP Candidates Respond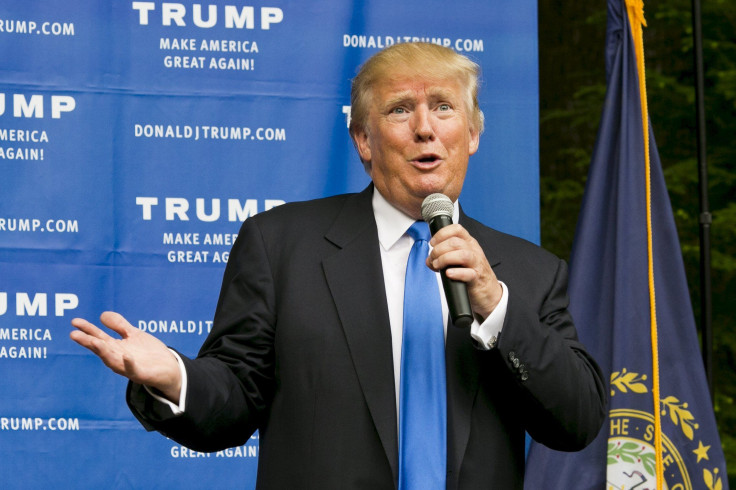 This story has been updated.
UPDATE, 2:18 p.m. EDT: Donald Trump continued his verbal assault on John McCain Saturday, taking to Facebook to further detail his disapproval with the Arizona senator.
"I am not a fan [of] John McCain because he has done so little for our veterans, and he should know better than anybody what the veterans need, especially in regards to the VA," Trump wrote on the social networking site. "He is yet another all-talk, no-action politician who spends too much time on television and not enough time doing his job and helping the vets. He is also allowing our military to decrease substantially in size and strength, something which should never be allowed to happen."
Trump further added to his diatribe on Twitter, unleashing a string of jabs at McCain, while voicing his support for American military veterans.
Original story appears below.
Republican presidential candidate Donald Trump again aimed his acerbic rhetoric at a fellow member of the GOP -- this time it was 2008 presidential nominee John McCain and his military service. Trump questioned McCain's standing as a "war hero" in comments made during a question-and-answer session on the campaign trail in Iowa.
"He's a war hero because he was captured. I like people who weren't captured. Perhaps he's a war hero," Trump reportedly said of McCain. Multiple reporters attending the 2015 Family Leadership Summit in Iowa tweeted about the comment. Trump made the comment in response to a question from summit moderator Frank Luntz who asked why the real estate mogul would call a war hero like McCain a "loser." Trump replied, "He's not a war hero."
McCain spent more than five years in a North Vietnam prison after his plane was shot down during the Vietnam War.
Multiple Republican presidential candidates responded to Trump's comments on social media, with widespread support for McCain. Louisiana Gov. Bobby Jindal replied on Twitter, "John McCain is an American hero. I have nothing but respect for his service to our country." Former Texas Gov. Rick Perry echoed those statements, saying: "Sen. John McCain is an American hero and all POW's deserve our nation's highest debt of gratitude. Donald Trump['s] comments are disgraceful."
South Carolina Sen. Lindsey Graham and former Florida Gov. Jeb Bush also weighed in on the controversy, with Graham calling Trump's comments "stupid."
The spat between Trump and McCain apparently began when the longtime Arizona senator voiced his displeasure at Trump's speech in Phoenix. "This performance with our friend out in Phoenix is very hurtful to me," McCain told the New Yorker's Ryan Lizza Thursday. "Because what he did was he fired up the crazies."
Trump fired back in typical style, calling McCain a "dummy" on Twitter. He continued his assault Friday during an appearance on MSBNC's "Morning Joe," saying McCain "was very nasty to me."
"I supported John McCain. He let us down because he lost. But it was a hard win after what happened with the economy," Trump said during the interview. "But I supported him, raised a lot of money for him. A tremendous amount of money. And I'm a loyalist."
Trump apparently didn't believe McCain returned that loyalty with his comments. "I'm a person that if somebody is with me, I'm with that person," Trump continued. "And John McCain was very disloyal to me, number one. This is the first time I have spoken to him in a long time."
© Copyright IBTimes 2023. All rights reserved.