What Will Donald Trump Do For Health Care? A Timeline Of Everything The President-Elect Has Said About Obamacare And Insurance Reform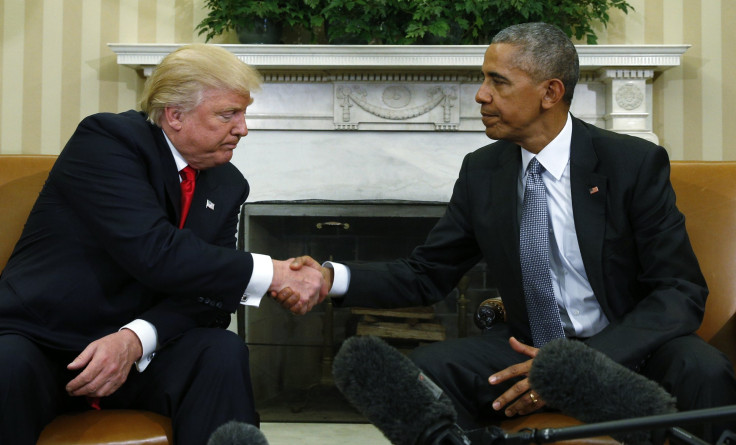 The tumultuous 2016 presidential campaign between Donald Trump and Hillary Clinton was a frenzy. It suffices to say less time was spent discussing policy decisions than the various scandals and controversies that surrounded both candidates. One thing was clear, however: Trump planned to dismantle Obamacare.
The president-elect rallied his constituents around a call to "repeal and replace" the Affordable Care Act, repeatedly calling it disastrous via Twitter, campaign speeches and interviews. Now that he's officially set to replace President Barack Obama, he seems to be wavering in his adamancy. Here's a look back at what Trump has said about healthcare since his official nomination as the Republican presidential candidate Jul. 19, 2016.
July
"We will repeal and replace disastrous Obamacare. You will be able to choose your own doctor again." Republican National Convention, Jul. 21, 2016.​
"I can tell you, I mean, I'm like a pollster myself when I'm in front of these massive audiences. One of the things that gets constantly -- you people know because you're there -- the biggest applause is a repeal and replacement of Obamacare...Obamacare is a disaster, people are dying with it. It's a disaster and everybody knows and it's going to fold anyway. In '17, unfortunately, if I'm president, I mean I've got to take over this mess. It's going to fold, anyway. But repeal and replace Obamacare, people like it." Rally in Doral, Florida, Jul. 27, 2016.
August
"One of my first acts as president will be to repeal and replace the disastrous Obamacare, saving another two million American jobs ... We also have a plan, on our website, for a complete reform of the Veterans Health Administration. This is something so desperately needed to make sure our vets are fully supported and get the care they deserve." Detroit Economic Club speech, Aug. 8, 2016.
"We will repeal and replace #Obamacare, which has caused soaring double-digit premium increases. It is a disaster!" Twitter, Aug. 17, 2016.
"We will repeal and replace the horrible disaster known as #Obamacare!" Twitter, Aug. 29, 2016
September
"Bill Clinton is right: Obamacare is 'crazy', 'doesn't work' and 'doesn't make sense'. Thanks Bill for telling the truth." Twitter, Oct. 5, 2016.
"Obamacare will never work. It's very bad, very bad health insurance. Far too expensive. And not only expensive for the person that has it, unbelievably expensive for our country. It's going to be one of the biggest line items very shortly." Second presidential debate, Oct. 9, 2016.
"We have to repeal and replace it with something absolutely much less expensive and something that works, where your plan can actually be tailored. We have to get rid of the lines around the state, artificial lines, where we stop health insurance companies from coming in and competing, because they want -- and President Obama and whoever was working on it -- they want to leave those lines, because that gives health insurance companies essentially monopolies. We want competition." Second presidential debate, Oct. 9, 2016.
"I will sign the first bill to repeal #Obamacare and give Americans many choices and much lower rates!" Twitter, Oct. 17, 2016.
"We have to repeal & replace #ObamaCare! Look at what it is doing to people! #DrainTheSwamp" Twitter, Oct. 20, 2016.
November
"When we win on Nov. 8th and elect a Republican Congress, we will be able to immediately repeal and replace Obamacare. Have to do it. I will ask Congress to convene a special session so we can repeal and replace. And it will be such an honor for me, for you, and for everybody in this country because Obamacare has to be replaced. And we will do it and we will do it very, very quickly. It is a catastrophe." Speech in Valley Forge, Pennsylvania, Nov. 1, 2016.
"I am going to repeal and replace ObamaCare. We will have MUCH less expensive and MUCH better healthcare. With Hillary, costs will triple!" Twitter, Nov. 2, 2016.
"Either Obamacare will be amended, or repealed and replaced. I told [President Obama] I will look at his suggestions and out of respect, I will do that." "60 Minutes," Nov. 11, 2016.
"The administration recognizes that the problems with the U.S. healthcare system did not begin with - and will not end with the repeal of - the ACA." President-elect's website, present.
© Copyright IBTimes 2022. All rights reserved.
FOLLOW MORE IBT NEWS ON THE BELOW CHANNELS